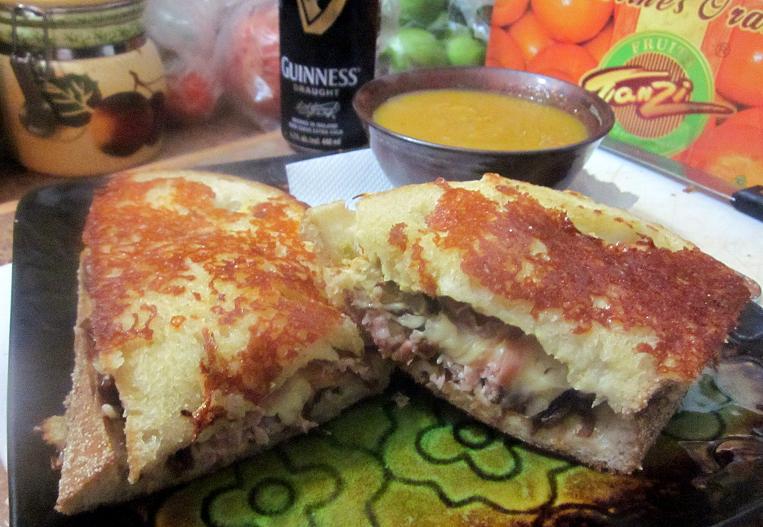 Lo, and naught but a week ago my old comrade-in-arms Nicholas (BBQ Warlord and member of The Brotherhood Of Bacon) crossed the frothing Georgia Straight to my monastery island and entreated me to join him on a glorious quest!
With a mad glint his eye he explained his plan: We would make sausage! Our own sausage! We had the tools already, the salt and the herbs. We just needed the pork! It was only after consulting one of the monastery's many tomes on sausage making that we brave knights dined not upon porcine forcemeat but instead swallowed a bitter truth. The Teutonic manuscript was quite clear; it would take more than a day to complete the rituals of cleansing and curing the meat. Drat!
Time was of the essence to my esteemed guest and he quickly devised another, equally insane plot. This quest would avoid any time-consuming salting and curing and focus only on assembling. A sandwich! Neigh, the ultimate sandwich! One ham and cheese masterpiece to rule them all!   
We set out at once to pillage the local countryside for supplies. Our supreme sandwich would resemble any store-bought ham 'n cheese, but the quality of our ingredients would elevate it to the realm of legend. We needed a loaf of the finest bread, ham or some sort of artisan pork product for the meat, a nice melty cheese, and really good quality mustard.
But, first we took a quick detour to shop for headphones and browse through records… DJ Shadow for $15? Nice! We were also regrettably forced to eat Sir Robin's minstrels.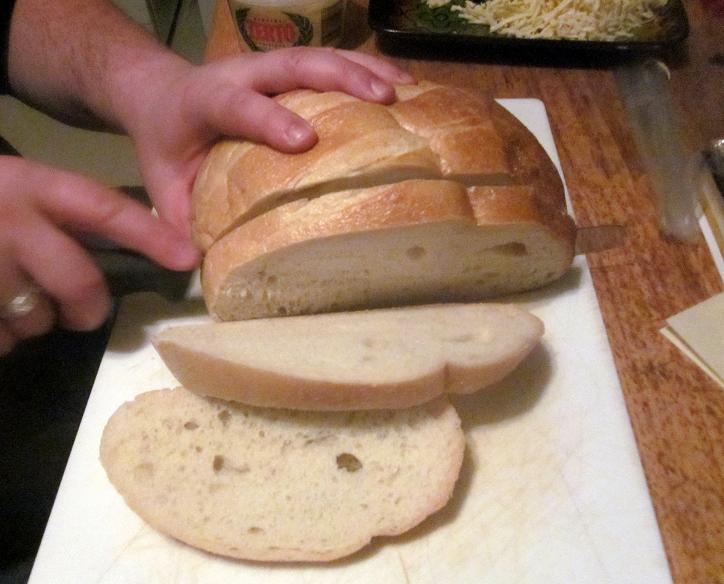 Much rejoicing! We decided on a thinly-sliced (almost shredded) Tuscan ham and prosciutto combination, complimented by a smoky, but not overly-assertive Gouda. The bread would and always had been sourdough ('cause it's the best. Period.) and the mustard came courtesy of the Edmond Fallot Moutarderie in France. We now possessed the building blocks of greatness!
Back at the monastery it was a simple matter to assemble and sear the sandwiches in a hot pan. My comrade's divine vision of crusting the buttered slices of bread in Romano cheese for some crunch 'n punch worked brilliantly. We had just enough time to nom them down, served alongside a Roasted Squash Soup, before Nicholas had to leave. It was as epic a sandwich as even the Earl himself could have dreamt up!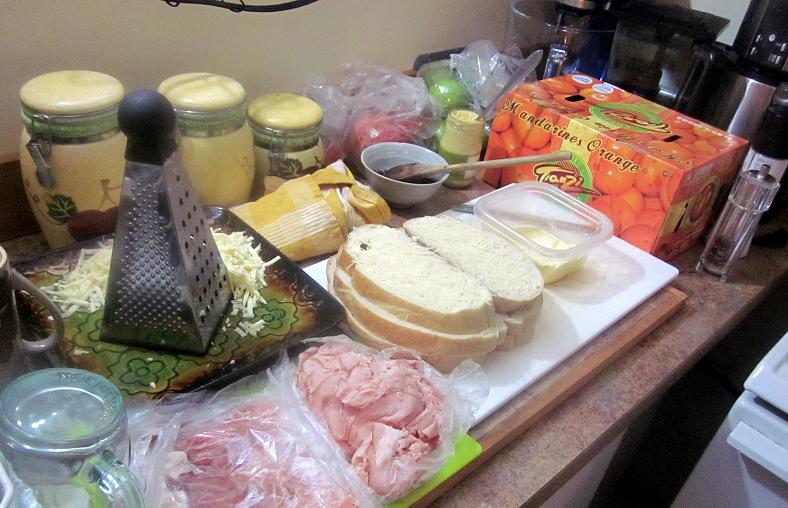 And next time… There will be sausage.
The Ultimate Ham and Cheese Sandwich (Serves 3 Hungry Crusaders)
 Ingredients (Apologies for the unusually-obscure measurements… We were having too much fun!)
1 Tsp. Butter
Small White Onion (sliced thinly)
Salt 'n Pepper
Pinch of Sugar
1 Tsp. Balsamic Vinegar
4 Tbls. Butter (Room temperature)
Loaf of Sourdough Bread (sliced into ¼ – ½ " pieces)
Romano Cheese (approx. 60g, finely grated)
Green Peppercorn Dijon Mustard
Tuscan Ham (approx. 300g, shaved very finely)
Prosciutto (approx. 250g, shaved not-so-finely)
A Small Wheel of Smoked Gouda (250g, grated)
Method
Melt the butter in a small sauté pan and fire up the onions over low heat. Cook them, stirring occasionally for 12 minutes, or until they have taken on a golden brown colour. Season them with salt, pepper and sugar and cook another 10 minutes to a caramel brown colour. Hit it with a splash of vinegar and cook another minute, remove them from heat and set aside.
Melt a dollop of butter in a wide sauté pan on medium-low heat. Butter the slices of bread on both sides and press a fine layer of Romano cheese into one of them. Lay the bread Romano-side down into the pan, spread a thin layer of mustard and assemble the ham, prosciutto, caramelized onions and gouda on top. Cook them until the bottom layer is browned and the cheese is melty; about 3 minutes. Serve 'em while they are still hot!
Note : If the bread is a bit thick, the bottom might get dark before the cheese melts. If so, fire up the broiler in your oven and let the cheese hang out underneath it for a minute. If you've got a sandwich press… Well, just use that and disregard all of the above, you lucky duck.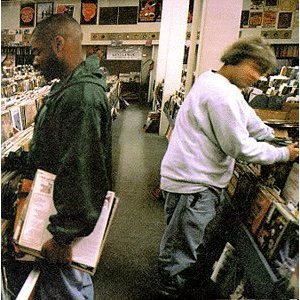 Music To Cook This To:
DJ Shadow – Endtroducing