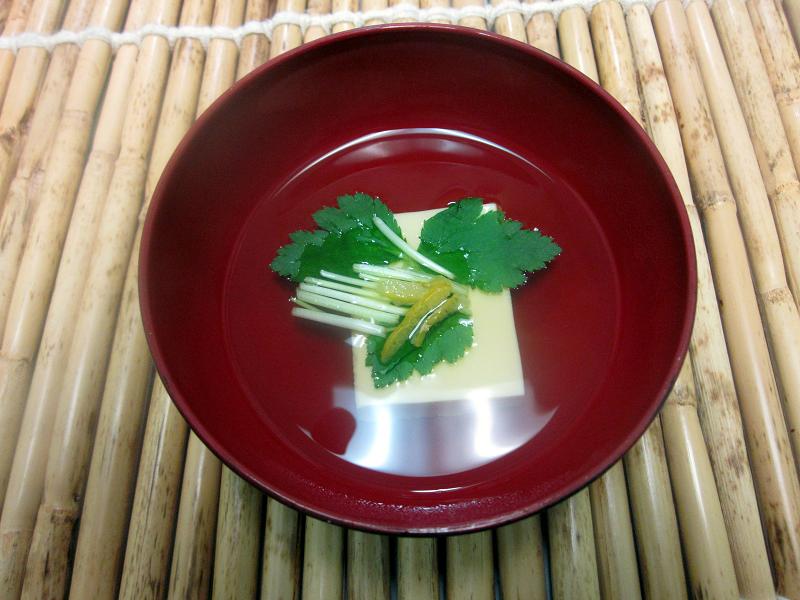 On a Monday night just before the Christmas holidays, an entire roomful of food service professionals (if any member of our clan can be called that) sat down to a very special dinner at Wasabiya Japanese Sushi Cafe in Campbell River.
Our illustrious guests were the kitchen and front-end staff of Quay West Restaurant and Catering, who had just hosted our Christmas party the night before. Chef Marc McGraw's only request for the night's food: "Make it something really unique, something Japanese… Stuff they may never have the opportunity to eat again."
Wasabiya's Chef Hiro took that once-in-a-lifetime concept and ran with it, big time.
He based the structure of the meal on the traditional multi-course style of cooking and presentation known as Kaiseki. Often referred to by Western chefs and food writers as "Japanese haute cuisine", Kaiseki is a long, ever-evolving tradition of hospitality, seasonality and aesthetics that can be traced back to feudal-era Samurai court feasts and Zen Buddhist tea ceremonies (known separately as Cha-Kaiseki). Each dish in the extensive menu is chosen to not only be delicious, but also encapsulate the essence of the season in which the guest is eating… It's thoughtful stuff, hard to explain.
It was with all this Zen food philosophy in mind that Hiro-san decided on our ambitious and eclectic menu: The flow of the dishes would deviate a bit from the traditional kaiseki guidelines, and some of the flavours we were infusing weren't strictly Japanese, but the foundation was there. The food would be deceptively simple, elegant and seasonal with enough accessibility for anyone new to Japanese food to enjoy.  
But wow, ten plated courses! That's a logistical minefield and mind boggling amount of prep executed in one night by Hiro, Yuki, my boys Mike and Corey and 'lil old me. Our servers Melissa and Mallory volunteered to ride this culinary locomotive with us, and without their expertise this night could have went right off the rails. Cheers everyone!
Course 1 – Amuse Bouche
Chinese-style dumpling with soy-vinegar sauce and Japanese mustard 
Course 2 – Trio of Winter Appetizers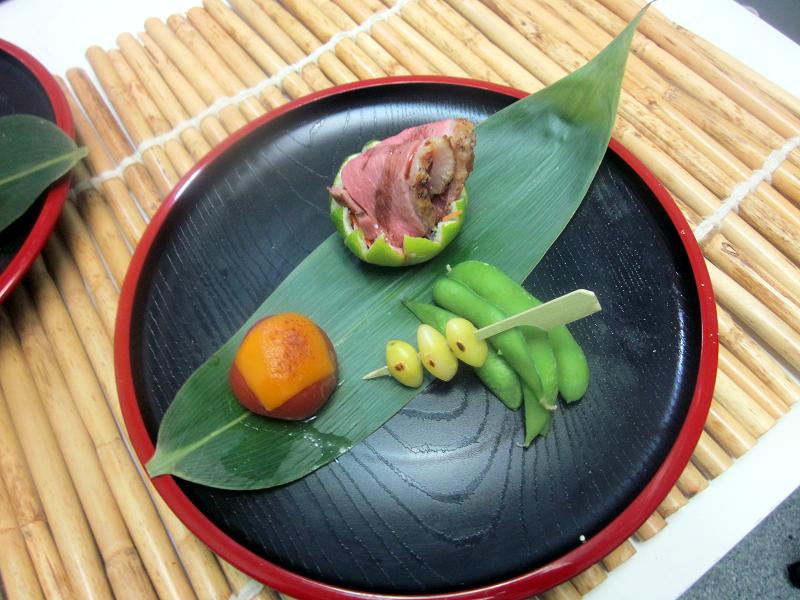 Smoked duck breast with carrot 'n daikon radish salad and teriyaki-red wine reduction. Cherry Tomato braised "O-Den style" in a light dashi and soy broth. Boiled edamame and roasted ginko nuts tossed in sea salt.
Course 3 – Clear Soup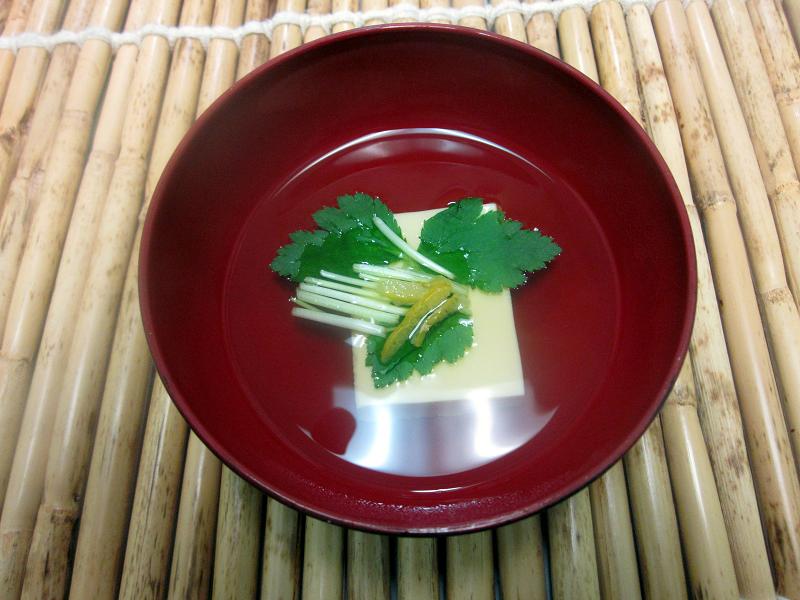 Tamago Tofu served in a clarified dashi broth with mitsuba and yuzu zest.
Course 4 – Baked Oyster
Local beach oyster baked in shell with isobe-garlic butter and panko breadcrumbs.
Course 5 – Sashimi Salad (not pictured)
Romaine lettuce and baby corn salad over assorted sashimi-style and marinated fish and octopus, topped with sansho-dusted wonton crisps.
Course 6 – Braised Hamachi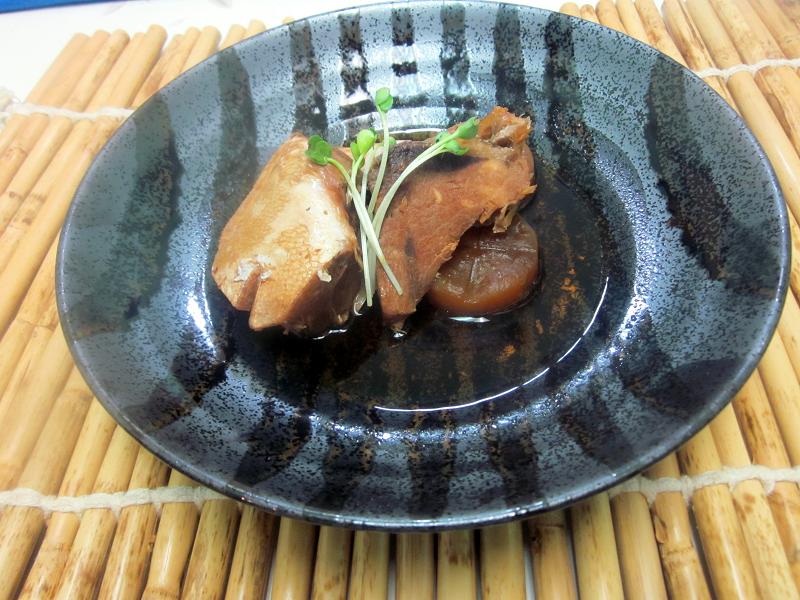 Soy-braised yellowtail and daikon with radish sprouts.
Course 7 – Sunomono Salad Remixed
Cucumber wrapped around rock crab and kamaboko over seaweed salad, marinated in rice vinegar.
Course 8 – Fry Town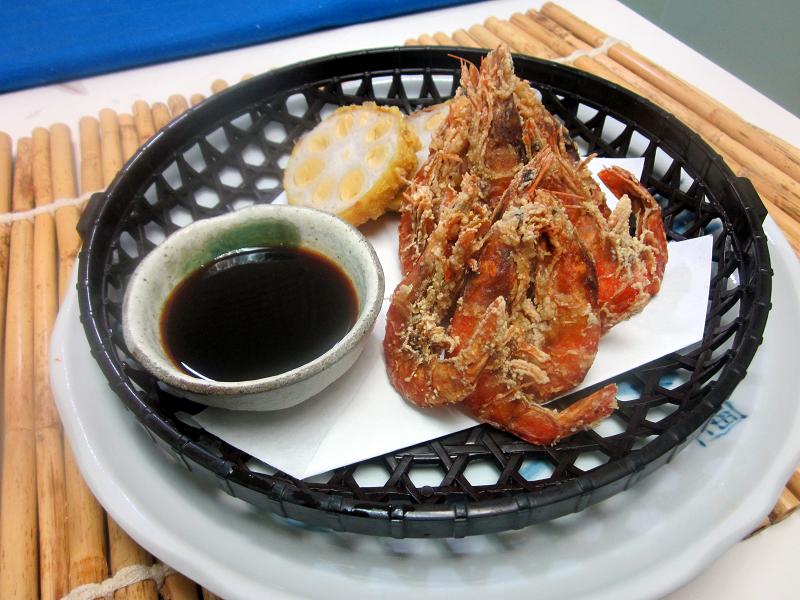 Deep-fried soft shell prawns and tempura battered lotus roots served with a classic soy and dashi-based tempura sauce.
Course 9 – Miso Stew
Deep-fried tofu, burdock and seasonal vegetables simmered in a savoury miso broth.
Course 10 – Oshizushi and Nigiri Sushi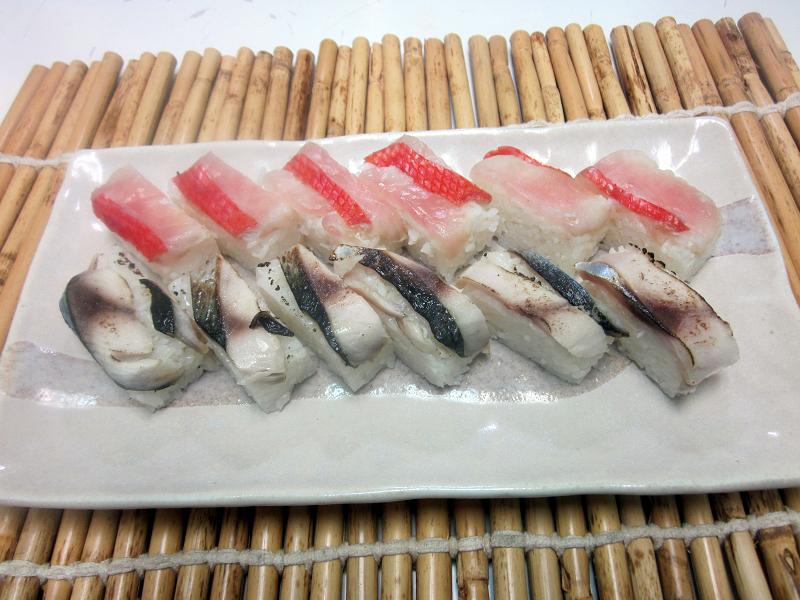 Oldschool box-pressed sushi (thorny rockfish, and aburi-style mackerel) and steamed prawn nigiri (not pictured).
Whew! After all that food (and sake) Our guests probably felt like they'd survived a fight instead of a feast… But, it wasn't quite over. Quay West's pastry chef had created a vast assortment of confectionery delights to cap off the evening, including a massive tiramisu topped with sculpted chocolate ribbons! Ka-boom! Death by chocolate.
It was a great night for us in the kitchen. Most of our time was spent in a hustling blur of clattering plates into rows and piling garnishes with trembling fingers. At one point, during a particularly hushed 'n focused plating Hiro-san mumbled, "This is what it's like… Making food at a Ryokan."
He was referring to the cooks at work in Japanese luxury retreats, the intensity of their focus and the monastery-like quiet they work in. And for a minute there, I really did feel like I was one of them.
If you're interested in learning more about this cuisine-cum-art form you should hit up Yoshihiro Murata's cookbook/memoir/food porn bible titled (what else?) Kaiseki :The Exquisite Cuisine of Kyoto's Kikunoi Restaurant. And although you won't be getting the ten course treatment, everyone should also stop by Wasabiya in CR for the best darn Japanese food on Vancouver Island.