Caldo Verde is the ubiquitous Portuguese soup made from potatoes, thinly sliced kale and maybe a bit of paprika-spiked Linguiça sausage thrown in for a little Shazam! I'd heard the name mentioned in cookbooks and on other food blogs plenty of times, but I'd never researched or attempted to cook this "green broth" everyone seemed so hot on.  Then winter hit, and I got sick, and all I had left in the garden was a single miserable little kale plant to comfort me.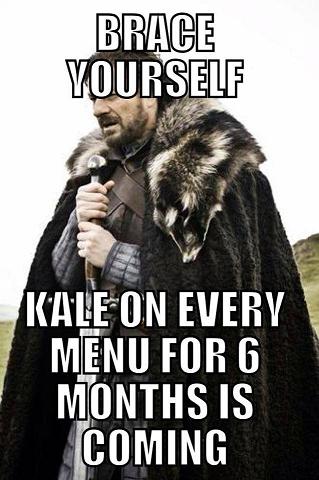 After talking with one of my co-workers (a shifty, hard working lad of dubious Portuguese ancestry) about the soup his grandmother used to make, I decided to give this old standard a whirl. Mostly, I was cooking to boost my spirits; turns out I gave my immune system a kick as well.  
How crazy is it that nature leaves a handful of plants available for eating during the hard winter months, and those same plants are packed full of the chemicals that our bodies need to store energy, cleanse impurities and resist sickness? It's like being handed a survival toolkit specifically designed for your body, and the environment that you're dealing with. I find that crazy, beautiful, synchronistic, and downright cool.
Now, I know how scrumpy this soup looks; but trust me, there is nothing your body wants more on a cold night than this starchy, savoury mound of TLC. If you want to chef it up a bit you can puree the potatoes into the broth to create a smoother consistency and drizzle some Jackson Pollock-esque Linguiça oil designs over the finished soup.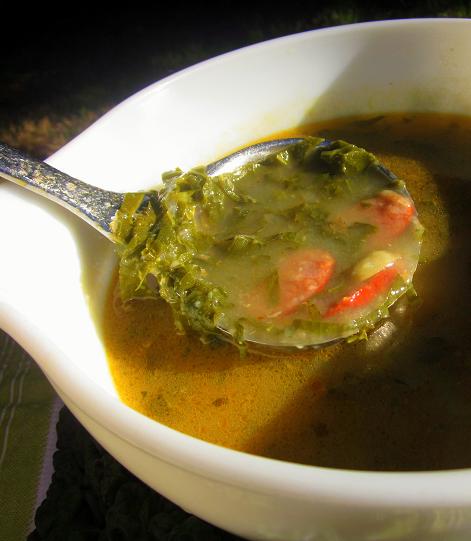 Portuguese-Style Kale Soup (Serves 4)
Ingredients
2 ½ – 3 Cups Kale (about 135g, thoroughly washed)

2 Tbls. (30ml) Olive Oil

1 Large Linguiça or Spanish Chorizo Sausage (155g, sliced into thin coins)

1 Medium White Onion (190g, chopped)

3 Garlic Cloves (20g, sliced)

6 Cups Chicken Stock, or Ham Stock (1.4 Litres)

1 Large Bay Leaf

2 Fresh Oregano Sprigs

4 Medium White Potatoes (310g, large dice)

Salt and Smoked Spanish Paprika
Method
Remove the kale stems from the leaves and set them aside for another recipe. Roll up the leaves and slice 'em; the thinner the better.
Fire up the olive oil in large pot over medium heat and sauté the sausage coins until they're lightly browned on all sides (about 4-5 minutes). Remove the sausage from the pot with a slotted spoon and set aside. Pour all but a teaspoon of the sausage-infused oil into a small bowl for later. Dump in the onion and garlic and cook until softened (about 3 minutes). Pour in the chicken stock, slap a lid on and bring it to a simmer.
Tie the bay leaf and the oregano springs into a bouquet garni and toss into the simmering pot along with the potatoes. Slap that lid back on and simmer on med-low heat for 20 minutes. After which the potatoes should be fall-apart tender and the broth will have thickened slightly from all the starch. Remove the bouquet garni and discard. Return the sausage to the pot and simmer, uncovered for a final 5 minutes.
Remove the pot from heat and stir in the sliced kale. Cover and let the pot just sit there meditating for five minutes before serving. All the residual heat in the soup will wilt and break down the fibers in the kale, making it just right. Remove the lid, give it a last stir, season to taste and serve with a drizzle of sausage oil and a stack of soda crackers…. Good for what ails 'ya.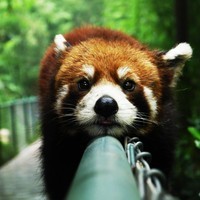 Music To Cook This To:
Nick Soapdish – Future 2th Mix