We're almost into our third week of June, and our Salmonberry bushes are still producing delicious edibles! But before I go out and brave the teddy bear's picnic again, I've got a whole container full of berries in the fridge ready to cook with.
The rough, acidic salmonberries really pop with other foods that are creamy and mildly flavoured. The first thing I thought of was just pouring 'em over vanilla ice cream… But as I nibbled on a couple more berries I remembered a well-worn recipe for yogurt panna cotta that might be a bit more sexy. I had paired it with candied lemon peel and green apples before… Delicate, sweet and sour. It would be easy to sub in the salmonberries with a little sugar and orange peel. Panna cotta it is!
Besides, I haven't got an ice cream maker.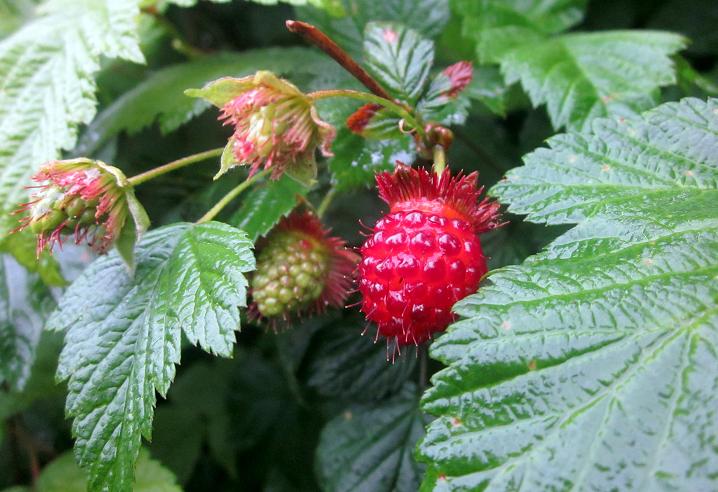 Panna cotta (Italian for cooked cream) is a dish originally from Piedmont that uses gelatin to set a mixture of simmered cream and sugar. It is chilled and either served in a dish (like crème brulee) or turned out onto a plate (ala crème caramel) and traditionally topped with a fruit coulis or compote. The recipe I used (which I got online from a Martha Stewart website) adds yogurt for body and honey for sweetness.
Salmonberries are simmered with sugar and juices to produce a syrup (or compote -from the French word for mixture) used to then flavour and preserve other whole berries. This is an opportunity to impart these sour little guys with some balancing sweetness and aromatic awesomeness.
Plan a day ahead when making a dessert like this, as the panna cotta needs time to set, and the salmonberries need time to marinate in the syrup.        
Honey-Yogurt Panna Cotta (Serves 2)
Ingredients
½ cup (120ml) Whipping Cream
3 ½ Tsp. (15g) Sugar
2 Tbls. (30ml) Cold Water
1 Tsp. (4g) Unflavoured Gelatin
4 Tbls. (60ml) Plain Yogurt
2 Tbls. (30ml) Liquid Honey
2/3 Tsp. (about 3ml) Vanilla Extract
Small pinch of salt
Method
Mix the whipping cream and sugar in a saucepan and cook on low heat to

almost

a boil, stirring constantly. Once it's just about to boil, cover the pan, remove it from the heat and just let it hang out and relax for 10 mins.
In a small bowl, gently mix the cold water and gelatin. Let it sit at room temp for 5 minutes to soften. It should be semi-solid… Not jello, but not water either.
Stir the softened gelatin into the saucepan of warm cream and let the pan sit at room temp on your counter for another 4 mins.
Pour cream/gelatin mixture through a strainer into a bowl with the rest of the ingredients. Mix well with a spatula. Pour the mixture into a custard cup, (or any small container that you like the shape of) wrap and chill in the refrigerator overnight. Panna cotta can be made a day or two in advance and kept in your fridge until you are ready to serve.
To serve: Fill a small bowl half-full with warm water and dip the upright custard bowl into it for 3 seconds. Run a paring knife around the inside of the bowl, then cap the plate you're serving with on top and flip everything upside-down. Hold the plate with your fingers and the bowl with your thumbs and give it a couple gentle shakes. If the panna cotta gods are smiling, then it should drop out of the mould onto the plate. Drizzle the syrup from the compote overtop and arrange the salmonberries around it. Garnish with a couple 'o mint leaves from the garden.
Salmonberry Compote (Serves 2)
Ingredients
10 oz. (283g) Freshly picked Salmonberries
½ cup (118ml) Orange Juice (1 ½ large oranges worth)
½ cup (118ml) Water
3 Tbls. (36g) Sugar
A pinch of Orange Zest
2 Dried Star Anise
Method
Fill a medium-sized bowl with water and soak the salmonberries for 5 minutes. Gently mix 'em around to dislodge all the grits 'n bits that are hiding in there and strain out all the water. Set aside a handful of the nicest looking berries (about 3 oz.) to garnish the final product.
Place the remaining berries in a saucepan with the rest of the ingredients and bring to a boil over medium-low heat. Simmer un-covered for 10 minutes, stirring occasionally.
Remove the pan from the heat and let cool for a couple minutes. Arrange the supermodel salmonberries that you set aside in a heat-proof container and strain the warm liquid overtop of them (ideally they should cover the berries completely). Make sure to give the last bits of salmonberry mash in the strainer a stir/push to get all the juices out. Pop a top on the still-warm container and fire it into the refrigerator overnight. Serve salmonberries and syrup over the panna cotta. Yum.
Music To Cook This To:
Wes Montgomery – The Very Best Of…