"On my festival days they still feast on eggs and rabbits, on candy and on flesh, to represent rebirth and copulation."
-The Goddess Ēostre from Neil Gaiman's American Gods
Every Easter I threaten to cook a rabbit for Crystal's family in the name of the pre-Christain Goddess Ēostre, but I never get around to it… And no one would get it but me and maybe Crystal. This year was no different, but I did get my hands on two really beautiful rabbits a couple 'o weeks after Easter and I figured it was time to cook something fresh 'n light to celebrate these rapidly warming evenings.
I've done lost of slow cooked rabbit dishes like ragu or jugged hare, but this time I separated the saddles from the rest of the bunch (a process that took WAY longer than it should have!) and wrapped one set of saddles in prosciutto and the other in a bit of caul fat I nicked from the NVICA Charcuterie Workshop. After a quick sear both turned out beautifully moist and easy to slice either hot or cold depending on the requirements of the final dish… Whatever that was going to be!?
I'd already got the rabbit browning in the pan when I realized I didn't have any concept of what dish I wanted to make or eat. I told Crystal as much and she just laughed, "Make whatever you want! Whatever will taste best. And make it look really pretentious like in those restaurants that do the dots and the swooshes!"  That's all I needed to hear.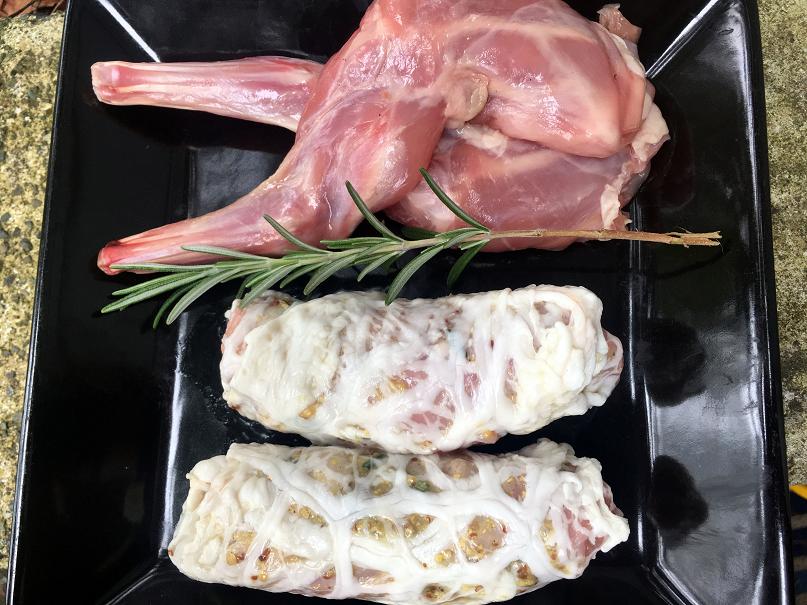 Rabbit saddle has a really fine texture and subtle flavour that fully embraces other, weirder and more assertive ingredients. I chose a couple of rabbit's best friends to puree and dot around the plate: juniper, peas, mint and of course carrots 'cause I'm a cheeky monkey. The rest would consist of a little salad of miner's lettuce (the only green in my garden at the moment) as well as fresh almonds, lightly roasted asparagus and garlic scapes. A fine cross section of spring's bounty!
You don't have to make your rabbit feast as fancy looking as mine was, but definitely try out these flavour combinations on your friends, family and especially as a treat for your significant other. Tell 'em it's a "feast worthy of a Goddess!" and reap some serious brownie points.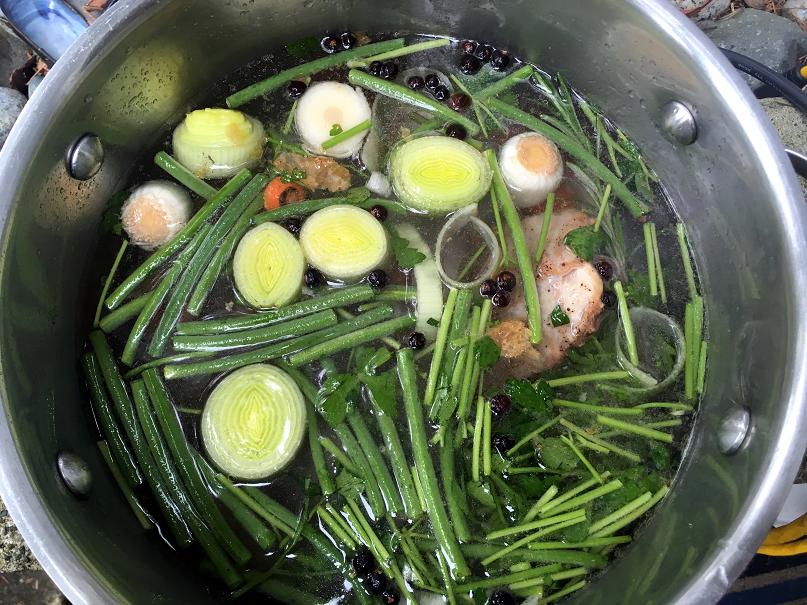 Rabbit Stock (Pre-heat oven to 375˚F/190˚C)
Brown the bones of the rabbit in a 375˚F (190˚C) oven on high for half an hour until they are nice and golden. Place them in a medium-sized pot with garlic, celery, fennel, juniper and some leek ends and fill with enough cold water to cover the bones plus an inch or two (roughly 4-5L) then bring to a boil. Reduce heat and simmer for four hours, skimming off any impurities that rise to the surface. Strain out all the solids and you're ready to go! Any leftover stock will keep covered in the fridge for about a week.
Sauce # 1 – Carrot Puree (It's best to use an immersion blender for this, but a stand-up blender works)
Ingredients
5oz (150ml) Rabbit stock
2 Medium Carrots (2 ½ cups or 133g, peeled and chopped)
1 Tbls. (2g) Juniper Berries (ground)
The Zest and Juice of an Orange (approx 30ml)
2 tsp (8g) Sugar
Salt and Pepper
Method
Bring all ingredients to a boil in a small saucepan. Slap on a lid and simmer for 15 minutes. Remove from heat and blend into a fine puree. Stain and set aside at room temperature.
Sauce #2 – Garlic and Pea Puree (Uh, it's pretty much the same as the above process)
Ingredients
6 ½ oz (200ml) Rabbit Stock
4 ¼ oz (120g) Spring Peas
3 Garlic Scapes (1 ¼ oz or 35g, chopped)
2 Tbls (3g) Fresh Mint (chopped)
2 Tbls (30g) Yogurt
Salt and Pepper
Method
Bring the first four ingredients to a boil in a small saucepan. Slap on a lid and simmer for 8 minutes. Remove from heat and blend into a fine puree. Stain and let cool then fold in the yogurt and season.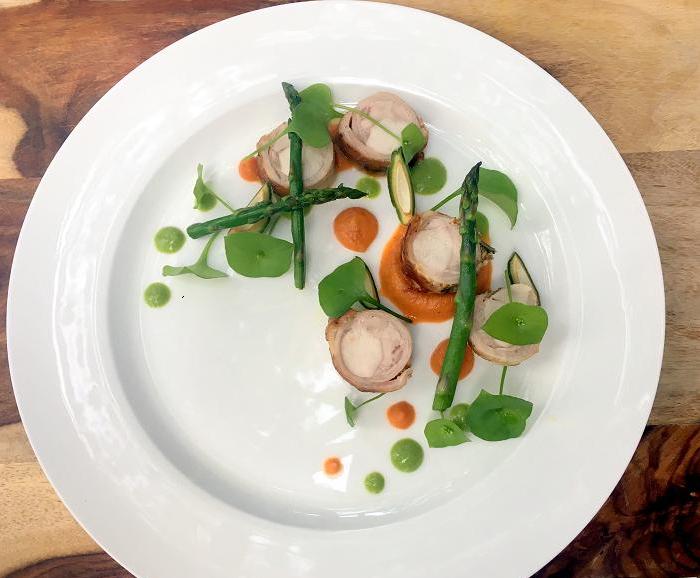 A Feast for Ēostre (Serves 2)
Ingredients
2 Rabbit Saddles (6 oz or 175g total, trimmed)
1 Tsp (5ml) Olive Oil
1Tbls (15ml) Dijon Mustard
Salt, Pepper and Fresh Thyme
3oz. (85g) Prosciutto
1 ½ Tsp. (3g) Butter
5oz. (140g) Fresh Asparagus (Trimmed and sliced)
Sauce # 1
Sauce #2
2 cups (13g) Loosely Packed Miner's Lettuce
Fresh Almonds and Garlic Scapes
Method (Keep that oven at 375˚F/190˚C)
Season the rabbit saddles all over with olive oil, mustard, salt, pepper and thyme. Wrap the prosciutto around them tightly and let sit at room temperature at least twenty minutes before searing.
Fire up a sauté pan over medium-high heat and plunk in the butter. Once it's completely melted and finished foaming place the prosciutto-wrapped rabbit in the pan seam-side down. Sear each side of the rabbit until golden: roughly 4 minutes a side. Toss the asparagus into the pan and pop the whole thing into the oven to finish cooking for five minutes. Carefully remove the rabbit and asparagus from the pan and let rest for five minutes.
Dot your plates with sauce # 1 and 2. Scatter the miner's lettuce, cooked asparagus, almonds and scapes here and there amongst the dots. Meticulously adjusting asparagus spears to make them look random is way harder than it looks! *laughs* Slice the rabbit into rounds and place them next to a dot of sauce #1 and sauce #2 so that you'll get both flavours.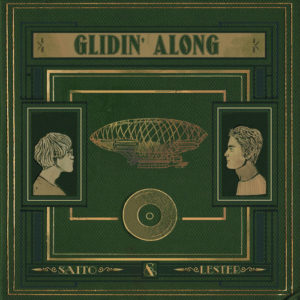 Music to Adjust Asparagus To:
Saito and Lester Nowhere – Glidin Along