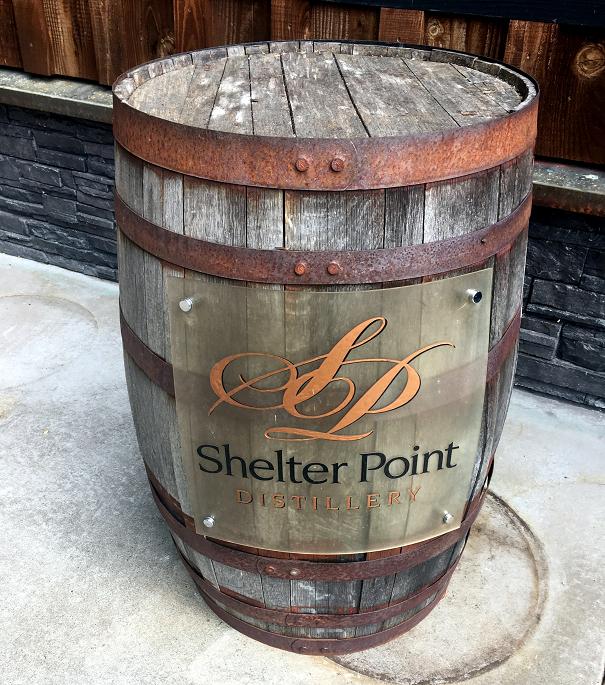 Every time my wife and I drive to Courtenay – Which is pretty frequently 'cause it's only thirty minutes away in good weather and full of great places to eat – We drive past the sandwich board for Shelter Point Distillery, and I feel shame. It's an award winning whisky and vodka distillery and I'm a hack food writer and we are so close, so damn close… Yet in all the years I've spent here in Willow Point I've never hiked down the road to visit this illustrious institution.
No longer! The equally illustrious staff of the Berwick (including yours truly) went on an afternoon getaway to Shelter Point a couple months back to see what all the fuss was about. It was a great time! Roughly fourteen of us took the grand tour and tasting, which lasted about two hours and never once failed to capture our collective imaginations.
The building is a marvel of reclaimed wood and polished brass which immediately impress a feeling of rustic sophistication that is equal parts CR brewpub and old Scottish hunting cabin. It's located in the bosom of Oyster River/Black Creek's fertile farming country so practically everywhere you look endless fields of barley stretch off into the distance. All This beautiful golden grass is used exclusively to make Shelter Point's whisky and (to a lesser extent) vodka. The vibe is so remote and "farmy" that you easily forget that the Courtenay highway is just a hop, skip and jump away.
The heart of the distillery, where we spent the majority of our tour is dominated by the two enormous Scottish-made Forsyth copper stills which stretch their long collector pipes across the space and into a series of steampunk glass and copper chambers. They were empty when we were there, but magically still warm to the touch from the last whisky batch.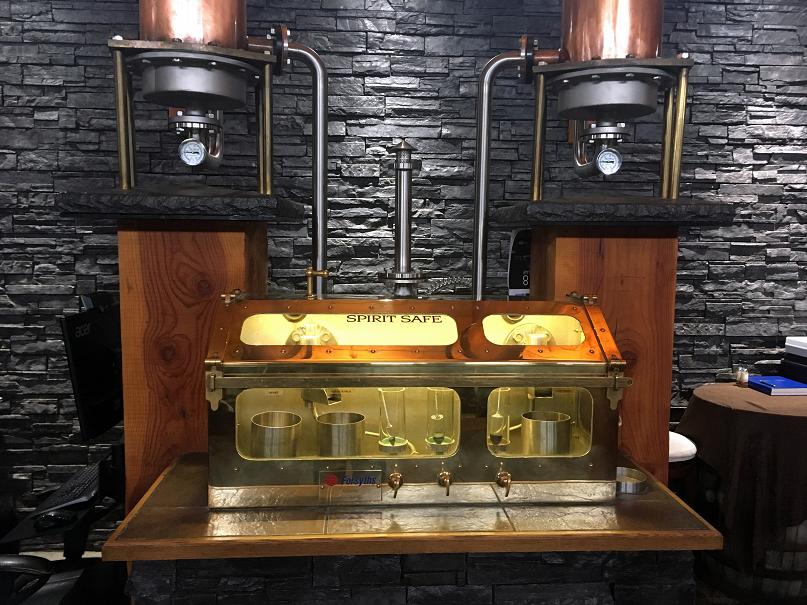 Our guide Brian was a master storyteller and regaled us with tales of brewing in the first civilizations, the origins of obscure Scottish terms and the process of distilling from barley to bottle. Each question we lobbed his way was batted back with a neat explanation and a pithy joke. My favourite was his explanation of why SP Whiskeys were distilled so many times: "We started with two, and it tasted alright. Then we tried a third and it tasted pretty good. Well, when we tried a fourth we started winning awards!" *laughs*
He stressed how the particular qualities of the soil, air and nearby sea create distinctive flavours in the whisky during different steps in the maturing process. The terrior was alive in this stuff like very few other products. The sea salt actually travels on the wind and leeches into the casks during the final maturing phase, imparting a distinctive briny edge that whisky connoisseurs can taste and apparently will fly to Vancouver Island to buy!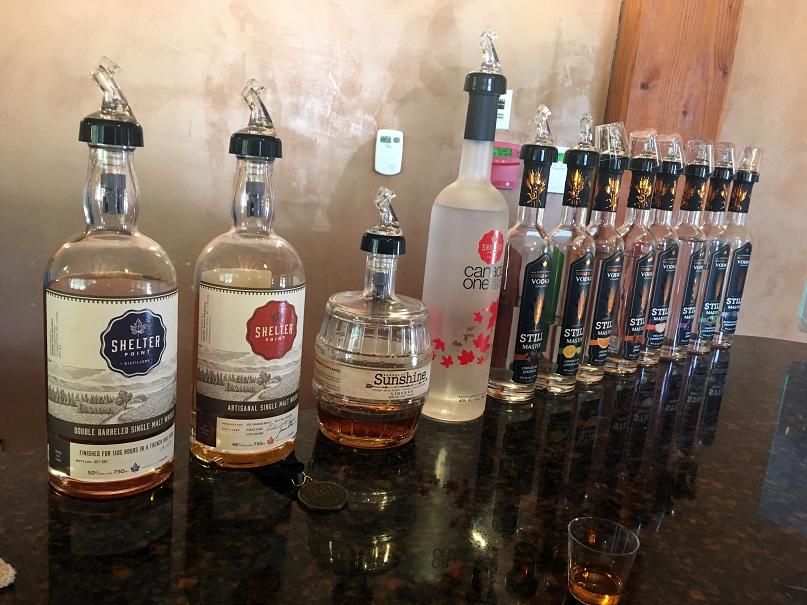 Armed with all this knowledge we put on our imaginary plaid Scottish connoisseur caps and began our tasting:
Canada One Artisan Vodka – As you might expect from a distillery that focuses so much of its efforts on the big, bold flavour of whisky, SP's vodka is not a subtle affair. The light aroma belays the big, yeasty flavour and hard burn of barley vodka that should be sipped with nothing more than a bit of soda or an olive. It's the kind of no-nonsense booze that Greg Proops would refer to as, "A cold clear bracing shower; the one that saved humankind from itself." I love it!
SP Artisan Single Malt Whisky – Their flagship gold medal-winning whisky is a soft and many-layered nectar with a bit of spice and a sweetness that balances the whisky kick nicely. It's perfect all by itself with a good book.
SP Montfront District 141 Whisky – We got to try a wee bit of this limited edition whiskey which comes from a single origin grain on a single lot on their farm. It's a much louder whiskey than its brothers and swings a mean left hook with a bit of nutty, mineral aftertaste and really benefits from a couple drops of water to bring out the full character.
SP Sunshine Liquor – For the un-initiated, this blend of SP whisky, maple syrup, orange peel and spices is the perfect way to slowly attune your palate to the whisky world without suffering the burn. It's quite sweet and has a warm pumpkin pie meets sugar cookie profile that Crystal loved! During our time at SP its distinctive barrel-shaped bottle was the one I noticed passing over the bar and into gift bags the most.
After a few more questions and a quiz, I won a bottle of vodka (Seriously! Yeah me!) we said our goodbyes and piled back on the bus. The warm spring embrace of a Wednesday evening with little to do and a lot to think about lent well to the baggies full of premium liquor we bought. All in all it was a perfect afternoon excursion.
I highly recommend turning off the highway and having a dram at Shelter Point. The location is beautiful, the staff are a joy and the whiskey is quite literally world class. During the summer you can tag along on free tours that go during the afternoon, but if you're a big group you should definitely call ahead.
Cheers!