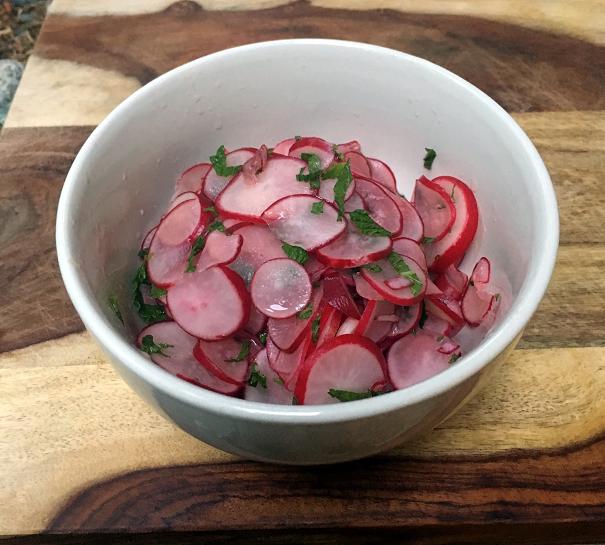 This is the year I got my gardening act together!
Soil is tilled! Weeds are gone! Fertilizer? In! Seeds? You bet! And I'm watering every single day! Boom! And it's already paying off! First crop is up. My sink is full of radishes!
I'm thinking the best way to use my very own home-grown, seed-to-sandwich produce is to keep it real simple. I'll make a nice little salad with a bit of salt and the mint that's also popping up in the herb pots finished with a squeeze of lime.
It's a recipe I came across a month back when I was doing an Indian-themed dinner for some of the Berwick residents. Throughout India and into Nepal salted radishes are used as a psudeo-salad/condiment to go with rich chicken or vegetarian curries. It's since become my favourite way to serve radishes period… Sorry, Honey-Miso butter.
Give it a try. It takes ten minutes, no cooking required and goes great with any type of grilled meat or popped into tacos.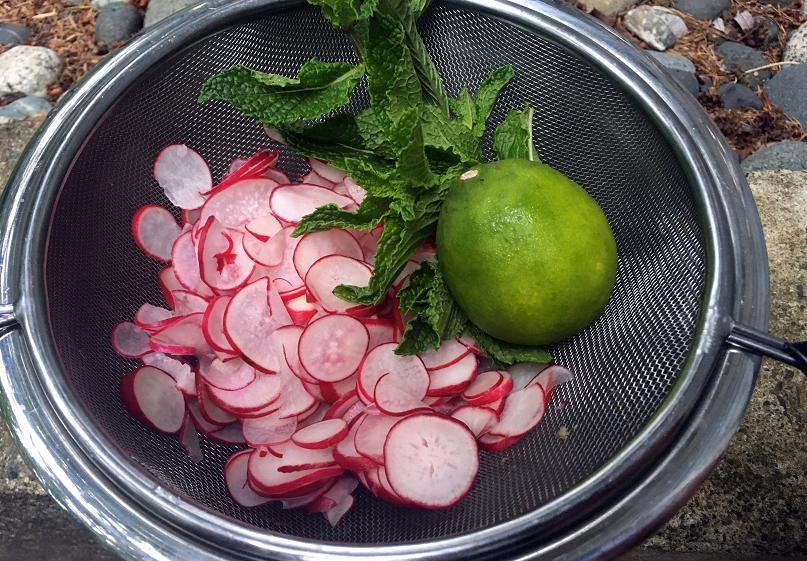 Radish and Mint Salad (Serves 4)
Ingredients
8 Medium Globe Radishes (approx. 7 oz. or 200g, trimmed and greens removed – Save 'em for pesto!)
1 Tbls Salt (17g)
½ Cup Fresh Mint (15g, finely chopped)
Juice of ½ Lime (15ml)
Method
Finely slice the radishes as thin as you can (a mandolin works great for this!) and toss them in the salt. Make sure to massage the salt into all the spaces between the radish slices as they like to stick together. Leave them to soften in a medium non-reactive bowl for ten minutes.
Strain the radishes to remove excess radish-juice and give them a quick rinse to remove any clingy salt. Immediately toss the radishes with the mint and lime juice and serve.
Music To Toss Radishes To:
Lord Echo – Melodies