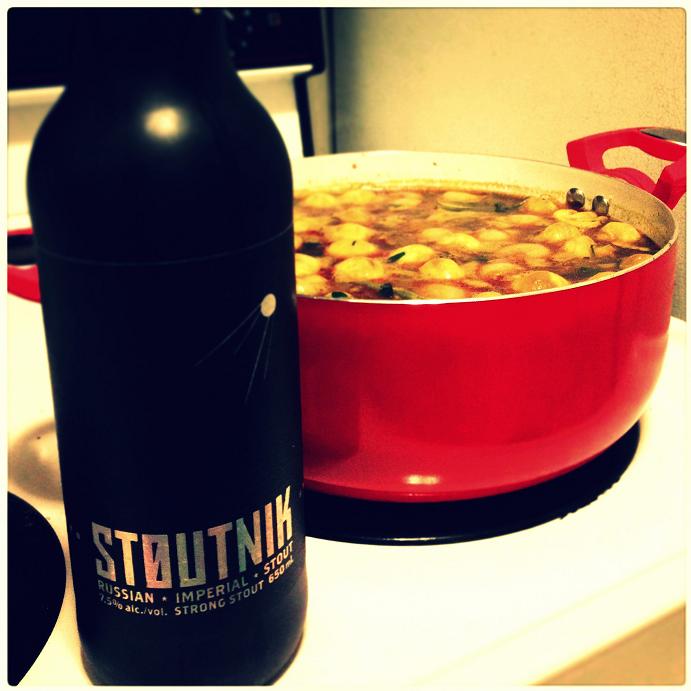 [This is a very special guest recipe that my good buddy, fellow cook and hilarious Podcaster Jess shared way back in October of 2016 for our now-defunct Brotherhood of Bacon website. Though that concept now lies in the ditch of the information superhighway it produced this great recipe, one that I followed last night with phenomenal results! It's the perfect one-pot-wonder to cook on a chilly Autumn night.]
Hey there, I've recently moved! Therefore I get the fantastic task of building a new kitchen from the ground up! (I discovered I didn't have much in the way of essentials) So here's a guide to one of the first recipes I cranked out in my new tiny kitchen wonderland! I'm a big fan of soups, stews, curries, or anything that sits on the stove top for a while, they warm the house up, and makes it seem like you've done more work than you actually have.
OH! It also makes your house smell great too! Now, one day, I'll figure out how to put pictures up with these word, but until then I want you all to imagine the food in your mind. It will be fun! I promise.
Beef stout stew

Ingredients
6 garlic cloves – chopped
1 large onion – medium dice
2 carrots – chopped
3/4 pound baby potatoes – whole
1/2 pound mushrooms – halved
1/2 pound shallots – peeled and whole
1 pound stew beef
1/2ish cup of flour
2 tbsp tomato paste
2 cups good stout
1 liter beef stock (the no salt kind)
5 bay leaves
Italian parsley – chopped
salt 'n pepper
Method
Start things off by generously salting the beef, not so much that it's too salty, but enough that it tastes well seasoned. Maybe 2 tbsp or thereabouts. Let rest for 5 minutes.
Next dredge the beef in the flour until coated. Heat some vegetable oil in a pot (big enough to handle the rest of the stew) over a medium high heat. Once the oil is hot and barely smoking, start browning the beef in batches (2 or 3) on all sides. It's important not to crowd the pot as the beef is having a stressful enough time as it is and would probably enjoy the room for activities (like browning). Reserve whatever flour you have left from dredging the beef.
Reduce heat to medium and add the garlic, onion, and carrot. Salt and sweat for 5 to 7 minutes.
Add the rest of the flour (plus a little more if what you have isn't a half cup) and cook for a further 5 minutes. Then add your tomato paste. Stir until everything is incorporated.
Next add the mushrooms, potatoes, shallots, and the reserved beef. Stir again, cuz we're really loving that now! Salt. Cook and stir for another 5 minutes.
Now you're gonna wanna add your stout, if you got one of those big bottles you will have enough for your stew and enough for you to have a glass for yourself too. Go ahead, you've earned it! Add the beef stock and bay leaves.
Crank up the heat to bring that pot to a boil. Check seasoning while you're waiting for your stew to boil. Add salt and pepper if necessary. Stir often.
Once your stew starts to boil, reduce the heat down to a low and simmer for 45 minutes to an hour or until your potatoes and everything are tender. Stir often.
Once your stew is ready add the chopped parsley, double check your seasoning, and enjoy!
What to Listen To While Making Stew:
Candace and Jess Judge a Book By Its Cover
Save
Save
Save
Save