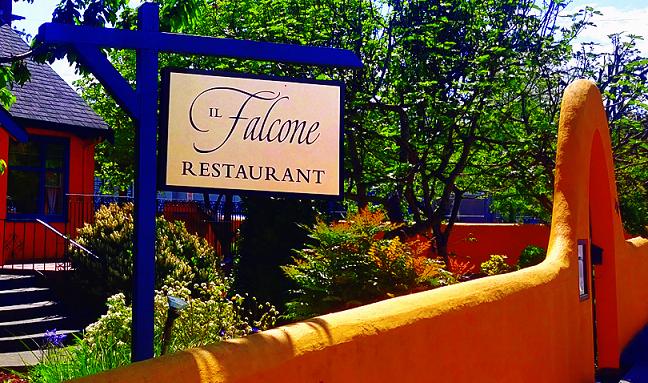 I recently sat down with farmer, philosopher and garlic guru Brent Garstin at his bucolic Comox Valley farm for a secret project that hopefully I'll be able to share in a bit. Brent dropped all kinds of knowledge on me, including where to get some of his award-winning garlic to eat.
Crystal was then gracious enough to pick me up from the middle of nowhere so I treated us to dinner at the restaurant Brent suggested. Neither of us had ever eaten there, but I had high hopes after Brent said, "they do things there the right way, authentic… People that I trust say it's the best in town."
Those people were right.
Located at the end of the main drag in Courtenay and easily spotted thanks to its copious grape vines and nearly-neon orange paint job is Il Falcone. We arrived around six and scored a couple of seats in their small dining room just before the dinner rush hit. On the way by I peeked in the open kitchen and saw a guy laying out sheet after sheet of fresh pasta and knew we'd made the right choice.
Il Falcone is an Italian restaurant in pretty much every conceivable way; the food is Italian, the wine is Italian, the music follows suit and they even have Peroni as their beer option. But this isn't Luigi's from Archer, they pick and choose from Italian culinary history with a pretty deft touch and avoid stereotypes.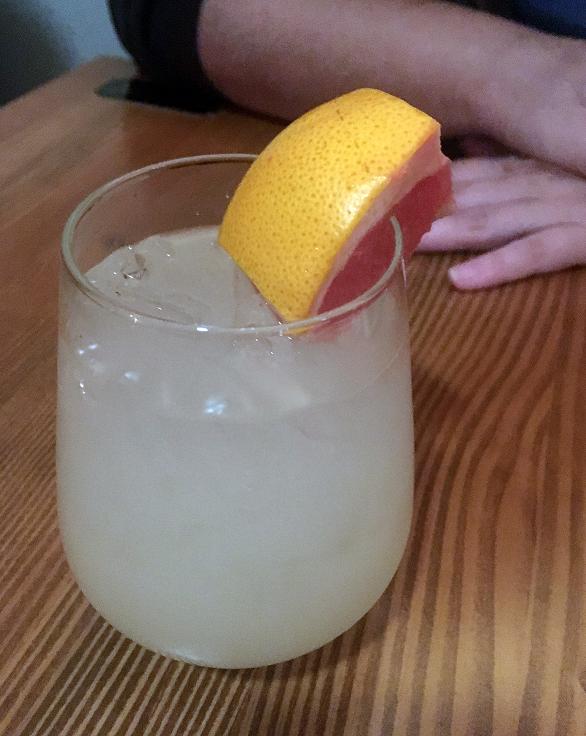 Well… Except the wine list… It's as long as my arm and filled with Italian wines both well known and obscure.  It's totally that 70s Big Night-style Italian restaurant thing of throwing everything wine-wise at the customer (and it works, the table beside us were debating for ten minutes over the type of rose they wanted with appys) and giving them the nearly-extinct experience of smelling, sampling and okaying the tableside bottle like they're in a James bond movie.
But tucked neatly underneath all the wine is a small collection of well-vetted cocktails, like the simple yet beautiful gin and San Pelligrino Greyhound that my wife ordered. It's the kind of brilliantly-simple drink that a line cook or dining room manager would dream up on an off day mixing a bit of this and that.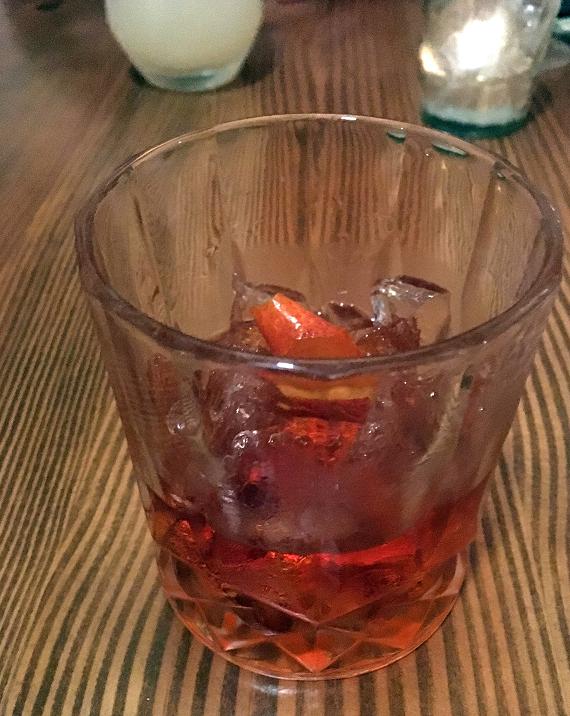 Lastly, and in my opinion, most importantly is the bottom bit of the drink menu; Three different types of Negroni… Three! One with Campari, another with Amaro and yet another flavoured with a splash of orange liquer. When I read it I thought I'd died and gone to drunk hipster heaven. I ordered the classic version and it was exceptional.
Speaking of exceptional, Chef Andrey Durbach's food is legit, no-nonsense Italian food with big flavours and very little embellishments. His small menu focuses on seasonal fare using local ingredients (like Brent's garlic!) in the style of specific Italian regions. There's no fusion here, no raspberry-miso gastrique with your gnocchi.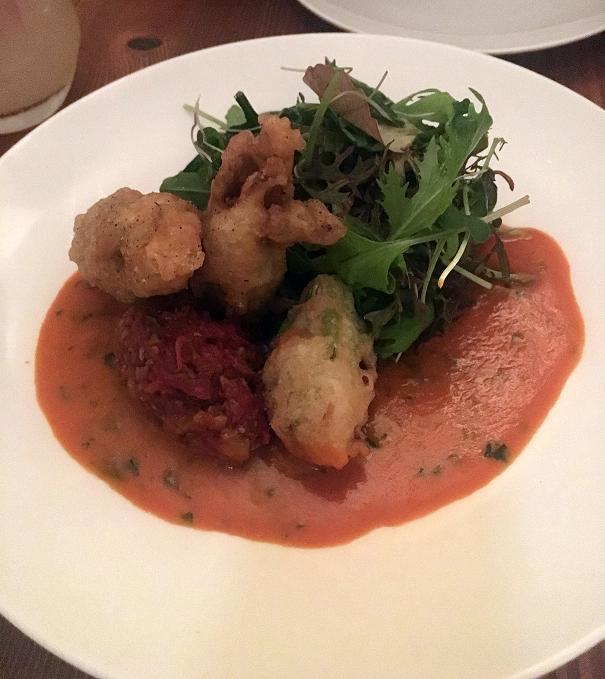 The Appetizer menu was a bit sparse so our server suggested the special, which turned out to be one of Crystal's personal favourites; stuffed zucchini blossoms. They arrived freshly fried and awash in a lovely little romesco-esque sauce and micro salad. It was a great little dish with simple, clean flavours and unpretentious plating.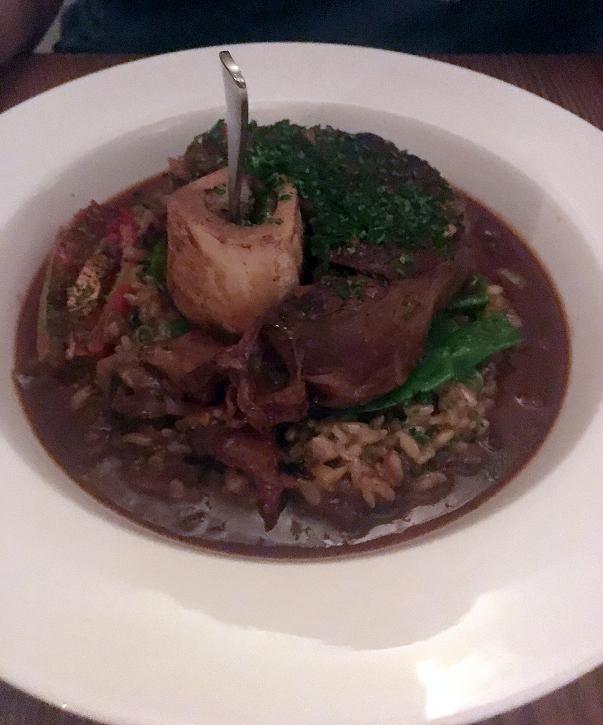 Crystal was in a red meat mood and ordered the Osso Bucco without a second thought. It arrived exactly the way you would expect from a farmhouse kitchen in Lombardi; A big shank front and centre with a spoon sticking out of the marrow, grilled veggies, gremolata, the works! The meat just melted away at the slightest touch of a fork and the sauce had all the richness of the bone without any greasiness.
I had to try a pasta dish and after much humming and hawing I settled on the Handmade Piedmontese-style Tajarin, which was a type of egg noodle I'd never heard of before. It arrived in a beautiful mound (is that a thing?) draped with a thick, rich ragu of what I believe was lamb and generous dusting of parmesan.  It was simple, hearty without being heavy, perfectly executed pasta… Best I've ever had.
It was a great meal and surprisingly affordable! Brent's friends are too be trusted! *laughs* I would also recommend Il Falcone to anyone who loves oldschool Italian Food or just plain well crafted food and drink. They're celebrating their one year anniversary this month with a special tasting menu and I think tickets still might be available. Also check out their Intsagram, it's pretty.
I know I'll be back, probably in the summertime to try out their patio and their other two types of Negroni!