It's that time of year again! The nettles are back! Grab some gloves and a bag (make sure to brush up on nettle safety here) and get picking! I was able to fill half a plastic bag full of nettle tops in a couple of minutes, the perfect amount for a light lunch.
The great law of stinging nettle recipes is : anything thou wouldst use spinach in, so shalt thou use nettles in kind. With a bit of adjustment for nettle's harsher flavour, any spinach recipe is up for grabs.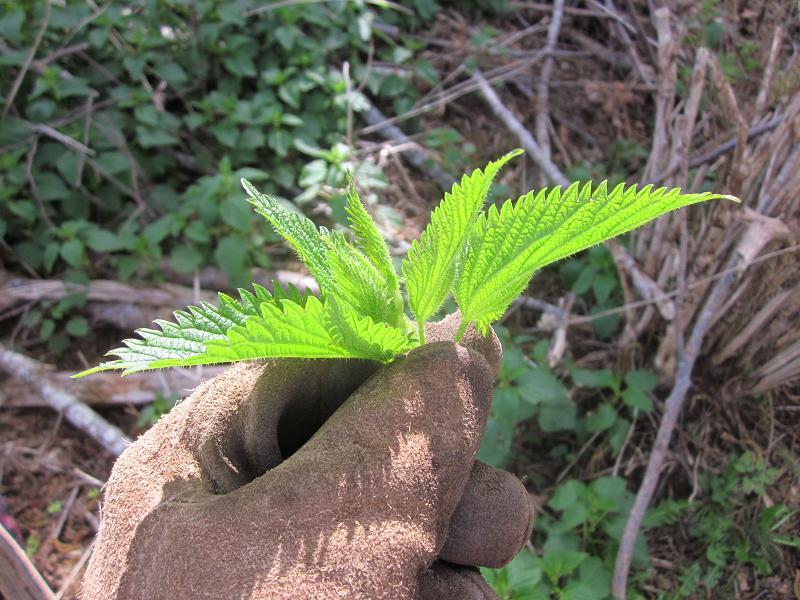 Spinach Goma-ae is a very popular dish at Wasabiya and one I've made about half a billion times. It's a beautiful little salad, quick to make, packed full of good stuff and contrasting flavours: Sweet, savoury, slightly bitter and delicate. Nettles would add extra wild 'n hearty dimension to this Japanese classic.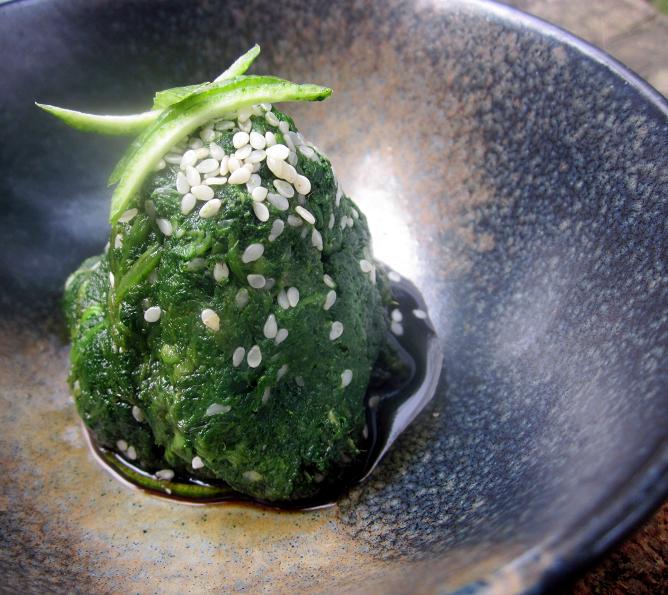 The secret to an elegant goma-ae is to use Japanese sesame paste as the foundation for the sauce. You will not get the same flavour from tahini, it has to be real neri goma. The brand that we use, and I recommend (from what my fearless translators tell me) is called Atari Goma from the Ohmura ya company in Osaka. It's a bit rare to see it at my local Asian specialty food store, but hey… That's what the internet is for!
Stinging Nettle Goma-ae (Serves 2)
Ingredients
½ Plastic Bag Full of Nettles (roughly 8 cups – loosely packed)
2 Tsp. Toasted White Sesame Seeds (8g)
2 Tsp. Sesame Paste (10ml, make sure to stir it up!)
2 Tsp. Sake (10ml)
1 ½ Tsp. Liquid Honey (7ml)
1 Tbls. Soy Sauce (14ml)
Method
Grab some gloves and pick through the nettles, discarding any bugs, branches or brown leaves. Soak leaves in cold running water for 2-3 minutes and fire up a pot of water over high heat.
Blanch the nettles in boiling water for 5 minutes… I used to think they needed 10 minutes of boiling, but I've learned a lot over this past year… Scoop them out with a slotted spoon and immediately douse them in a bowl full of ice water. Loose the gloves. Strain the cooked nettles and squeeze out as much excess liquid as possible.
Grind the sesame seeds until they're 50/50 solid seeds and sesame dust. You can do this in a mortar and pestle, pulse 'em in a coffee grinder, or if you have a Japanese suribachi grinder by all means use it.
Mix together the ground sesame seeds, sesame paste, sake, honey and soy sauce in a small bowl. Use a spoon or your fingers to mix 'n massage the sauce into the nettles. Don't break it up too much, just enough to get the sauce evenly distributed amongst all that green. Shape into two little Mount Fuji's of yum and serves garnished with more toasted sesame seeds and shaved yuzu or lime peel.
Music To Cook this To:
Thievery Corporation – Saudade