The last damp ghosts of winter have been exorcised by this weekend's sunshine, and everyone (myself included) have been out in their gardens preparing for a beautiful and bountiful spring. I have dirt under my nails, scratches all over my arms, a slight buzz from sunstroke and a mid-afternoon beer. I could not possibly be happier.
In my enthusiasm to "get 'er done", I've left dinner far too late. But, never fear! I've got all that Duck Confit in the fridge, and plenty of slightly scrumpy vegetables to sing back-up. I've got a pasta recipe that I conceived of last year that is so easy to throw together, and so freaking satisfying that I just have to bust it out. It'll be the cherry on my perfect day parfait.
Tagliatelle is a long, flat egg noodle from Bologna (although that depends on who you ask), Italy that is known for sucking up and showcasing rich 'n oily flavours very well. It's the perfect match for duck and should be available just about anywhere, wrapped in it's trademark "bird's nest" shape.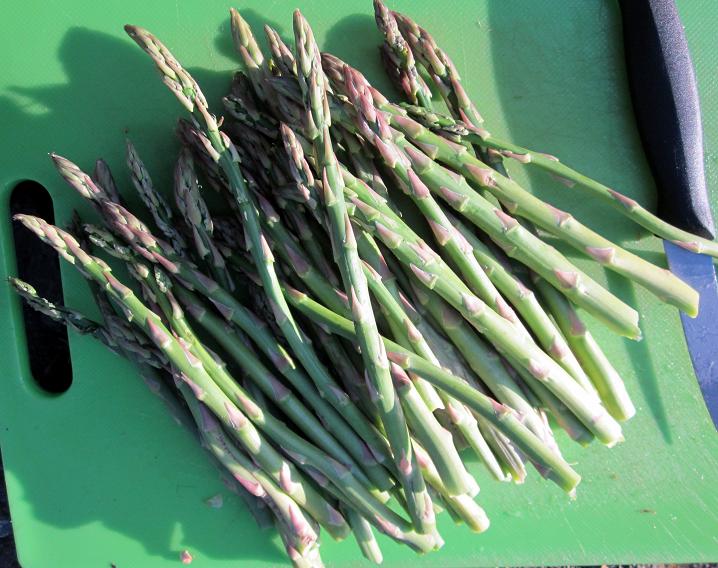 Cabbage and leeks are still loitering in the pantry from late winter. They're old friends of duck so we'll use those. Also, fresh spring asparagus is just starting to hit the stores. Right now, you can get the little-bitty thin 'n young asparagus that has a mild sweetness and woodiness and cooks like a hot-damn! This will be a killer bridge between late-winter and early-spring flavours.
Tagliatelle with Duck Confit, Toasted Walnuts and Spring Vegetables (Serves 4)
Ingredients
½  cup Walnuts (about  60g, chopped)
1 tbls. Olive Oil (15ml)
1 tbls. Duck Fat (15ml, scooped out of the Duck Confit container)
 1 Big Handful of Leeks (about 110g, washed and thinly sliced)
1 Big Handful of Cabbage (about 120g, thinly sliced)
½ Roll of Asparagus (155g, stems removed and chopped into 1" lengths)
¼ cup Sparkling White Wine (I went with a Sumac Ridge 2007 Steller's Jay Brut from the Oakanagan, BC)
1/3 cup  Chicken or Duck Stock (approx. 80ml)
5-6 Large Nests of Dried Tagliatelle (230g total)
2 Confit'ed Duck Legs (220g of meat stripped off of the bone and shredded)
1 ½ tsp. Fresh Lemon-Thyme
Salt and lots of Pepper
Method
Fire up a small sauté pan on med-high heat, or place in the pre-heated oven for a minute and toss in the walnuts. Shake them around and toast for 1 minute. Take èm out and give them a shake. If they have a little darker colour on them, and smell slightly caramel-ly, pour them into a small heatproof container to cool. If they need more time, put èm back in the oven for 1 minute.
Get a big pot and fill it three-quarters full with water and bring to a boil. Toss 2 tbls. of salt into the water. Reduce heat to a simmer and just let it bubble away while you cook your veg and prepare your sauce. This really isn't going to take long.
Pour the olive oil and duck fat into a large sauté pan (or, I sometimes find a Wok is a good size/shape) over medium heat. Once the fat starts to shimmer (about 40 seconds) toss in the leeks, cabbage and asparagus. Cook the vegetables 2 minutes at med. heat until they are soft and start to slightly colour. De-glaze the pan with the sparkling wine (Fshhhhh! Foam Party!) and stir up any little bits of flavour stuck to the pan's bottom. Simmer the wine and veg for 2 minutes (the wine will reduce by 1/2) and pour in the stock. Continue to simmer for another 3 minutes.
Increase the heat under your bubbling, salted water so that the simmering becomes a bit more fierce and drop in the nests of dried noodles. Stir them about gently until they separate and cook them for 6 minutes. Drain them in a colander and fire them right into the pan with the simmering sauce. Add the duck confit and toss that pan like a line cook at Pagliacci's! Season with salt, pepper and thyme, add the toasted walnuts and give it a final toss just before you plate it. Garnish with slivers of Parmesan cheese and more black pepper.
Music To Cook This To:
Afternoons In Stereo – Conspire To Rewire: Remixes