Tucked into an unassuming block of office buildings on Broadway, one of Vancouver's busiest thoroughfares is a Tardis-like temple of Japanese gastronomy run by one of the planet's most famous sushi chefs. This itamae titan is Hidekazu Tojo and unlike a lot of chefs with half a century of experience tucked under his apron he can be counted on to be at his restaurant nearly every day with a big smile to greet guests.
There's already been decades worth of press, blog posts, yelp reviews, TV appearances and whatever else out there to convince you that Tojo's is a great place to eat and that the man himself is a national treasure. I'm not going to add anything new to that conversation… He is a treasure! He bought me a beer once. No, I'm back in front of a keyboard to share my thoughts on why it's worth it once in a while to blow a couple hundred dollars on dinner and I'm using Tojo's as my Exhibit A, B and C.
The first time my wife and I went it was nearly a decade ago, back when Tojo had first moved into his present location and the buzz was still big. I was a line cook and my wife had yet to become the airplane-fabrication magnate she is today; in short, we were poor.
The second meal was just recently after a day-long seminar I attended at UBC as part of my onboarding as cooperate chef extraordinaire. My wife and I sat down and enjoyed a remarkably similar meal to the one we had years previous, except now we could actually pay the bill without shock, rending of garments and furtive online banking.
Both meals were exceptional, about two hours long, the service was superb, price and menu were nearly identical, the décor… well it's a little dark, but whatever. We didn't cross the Georgia Strait on a two-hour ferry, cross town by bus, endure a sea of sweaty humanity and sore feet for Tojo's mahogany ambiance, we wanted omekase! Your honour and members of the jury I submit my case for why it was indeed worth every penny:
EXHIBIT A – Service
Not to make it completely creepy, but from the moment you walk into Tojo's you are being constantly watched by at least a dozen people. The hostess, the servers, the bartender, the sous-chef that doubles as the tableside interpreter, they are all on high alert, checking to make sure your drink is filled, that your chair is comfy, that the lighting is to your taste, whatever you need.
Example: In the same fashion that any sushi or izakaya chef in Japan will stop and pour out a glass of sake for an empty-cupped salaryman at his or her bar (something I've a bit of experience both doing and having done for me) the team at Tojo's (including Tojo himself!) will quite literally stop their task and re-fill my glass with sake or whatever I'm enjoying with a smile and short bow.
This dissemination of hospitality from small sushi café to big time Van City destination may seem like a no-brainer for a Japanese joint or a sly ploy to squeeze a couple more ten-dollar sake bombs out of customers and it could be both, but it's also something more.
We really got to know both the sous during each meal. The sous chef's position in Tojo's is similar to an apprentice in any high-end Japanese Restaurant back in the homeland. Decades of study and practice, not touching rice for years, toil and trouble like no Western sous chef could know and then there they are at the door learning how to schmooze like the master and guide each guest's meal. Both guys we met acted as host, interpreter for the master's menu and best buddy you never knew you wanted without ever becoming cloying, corny or weird. We spent at least an hour of our time at Tojo's just chatting with the sous… When was the last time you spoke to someone outside of your table at a meal?
EXHIBIT B – Libations
My wife is a lover of finely-made cocktails and a harsh critic, so when she cracks open a restaurant's drink menu they'd best bring their A game. Fake-ass flavours will be sussed out quickly and sent back, or pushed across the table to yours truly where they're summarily dealt with. Japanese restaurants rarely offer cocktails because a) they are unfamiliar with the process, lack the ingredients or b) cocktails rarely pair well with raw seafood. All these factors would lead one to think that even with Tojo's high-end status they wouldn't spend much in the way of a strong cocktail program.
This is not the case. True, there is only a handful of mixed libations on offer but they are of the utmost quality. My wife ordered the Yuzutini during our last meal (don't ask me what she had a decade ago) and it was truly exceptional: Light, well balanced, boozy but without being overly vulgar and packing that serious Yuzu peel punch that an only comes from a ton of good-quality yuzu peel.
I opted for sake, which over the course of a decade hanging out with Japanese cooks has become a favourite poison of mine. So much so that I can now pick out couple aromas and flavours that separate a good sake from a great one. "Tojo's Choice" leaned toward the latter. It is a specialty brew available only at the restaurant which was brought to my table in a chilled little bottle with accompanying wooden masu. It was smooth, flowery and citrusy and (as advertised) paired well with practically everything we ate.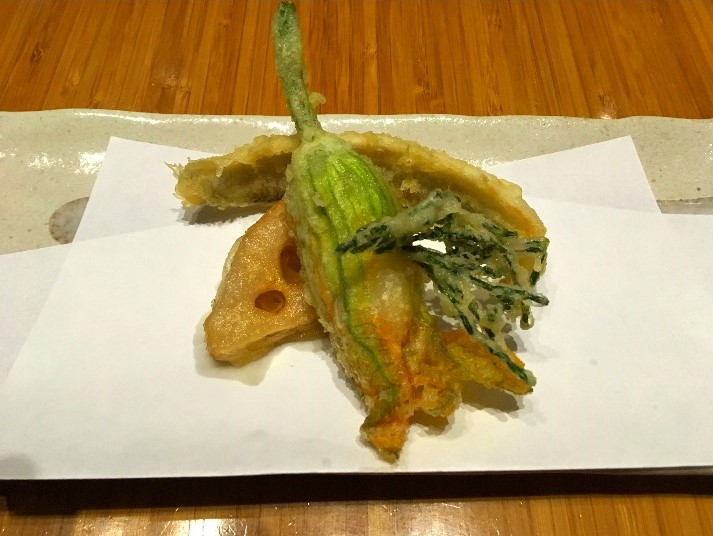 EXHIBIT C – Omakase
I'm sure someone goes to Tojo's and orders off the sushi menu… In fact, I'll even bet there are people who go to Tojo's and order the California roll… I shudder to think what these people are like. I've never seen them myself, but I'm sure they are out there.
The rest of Tojo's customers, after getting nice and unwound with sake or Suntori do not order food from the menu at all. They smile at the sous chef and simply intone, "Omekase!" meaning "I'm in the chef's hands" and let the kitchen staff choose their dining experience for them. It's a very exciting, cool and… I 'dunno… Civilized way to go about your dinner.
It can also get very pricey very fast! Here's how you go about it; When you say the magic word the sous chef will ask you how much you want to spend. There is a loose pricing structure printed in the menu that you can use ($75 per person gets you 3 courses, $100 gets you 4, etc.) or you can toss out any price, no matter how baller, sit back and let the courses come as they may.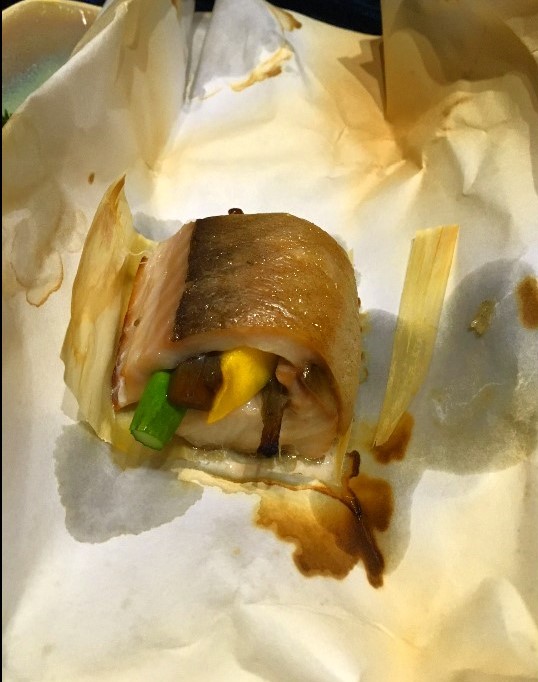 On both of our visits my wife and I each paid $150 and received six courses in a remarkably similar procession, leading me to believe that there is a "master list" for the various stations back in the kitchen to choose your courses from. Let's see if any of these tickle your fancy:
Crystal's absolute favourite appetizer: Scallop-stuffed zucchini flowers tempura-style. The most ethereally light and delicate fried food when done well… Done perfectly.
Three bits of premium tuna marinated in soy and dashi served with a pickled salad.
Sesame-crusted Halibut cheek and house-made dark miso glazed salmon with seasonal veg.
Five pieces of the best, and I truly mean the best Nigiri either of us have ever eaten shaped by the master himself.
Smoked Black Cod roulade served en papillote. Seems so French until the karashi mustard and shiitake mushrooms inside the cod explode out and plant the Japanese flag.
More seafood? Oh yeah… sashimi of four local sea bugs with accompanying sauces.
Some sort of dessert… I 'dunno… It's all becoming a blur.
By this point in both meals two things became clear: First that this was all about seafood, for seafood lovers and without a doubt the best seafood you are going to get in a town famous for its expensive tastes in seafood (see our trip to Blue Water Café so many years ago) but done in a really clever pairing of Japanese-French technique that makes it accessible for people new to sashimi. Second, by course five and sake number whatever I was sitting pretty far back in my chair with this blissed-out smile on my face, forgetting to take pictures and notes… Just enjoying every new sensation coming my way. Forget the blog.
CONCLUSION
Tojo's is an expensive but high-value, hyper-local, seafood-focused experience for all the senses that should be enjoyed with your favourite person once every couple years. The price is worth the experience of not having to think about anything while a personal chef curates every moment of your experience. It's crack-cocaine for seafood lovers and the best damn date night you will ever have… The defense rests.