I've been listening to an online radio show from Hamilton, Ontario called Urban Modernists for the last seven years. Hosted by Greg (aka Afternoons In Stereo, who I've plugged many times alongside many meals) each episode is a journey into the deeply obscure and funky world of nu-jazz, funk, breaks, latin and afrobeat that has had a serious impact on both my ever-evolving musical tastes and I dare say my life in general. I've found a majority of my favourite artists (Shawn Lee, Jimi Tenor, Pitch 'n Scratch, The Bamboos, The Haggis Horns, Quantic and his Combo Barbaro and soooooo many more) listening to this proto-podcast and obsessing over setlists intoned by the velvety-voiced host/DJ.
But, I'm sad to report that Greg's days of putting needles to wax and expanding the minds of us morlocks over the airwaves and interwebs has come to an end. A couple weeks back he dropped the final episode after a decade-long run and I'll admit to getting a little emotional.
They say that "all good things must come to an end". And I buy that. Nothing really good can go on too long before it loses luster. But, like all great aphorisms (used a bunch already) the reality is harder to accept that the words are to say… It sucks! But alcohol (properly prepared and moderately applied) is our balm in these sad and silent times.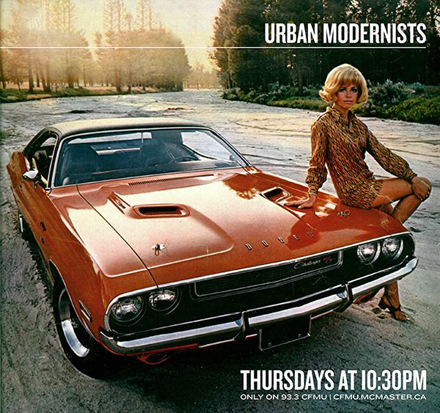 I've mixed up a cocktail to celebrate the monumental legacy of Urban Modernist based on an old French cocktail recipe from Harry's Bar called Le Boulevardier. The actual word means "stroller" referring to the rich men of leisure in 19th century Paris who Walter Benjamin called "the essential figure of the modern urban spectator" which I think fits.
The Boulevardier is a twist on a Manhattan (or maybe it's a Negroni?) with Bourbon or Rye Whiskey swapped in for gin and a healthy dose of Campari, one of my favourite liqueurs. My recipe cuts the vermouth and Campari and uses a simple syrup infused with orange peels. It took a bit of experimentation to get the balance right. The key is what brand of rye hits the mix… Something softer in flavour gets lost in Campari's bitter whirlwind, but any high test swill crushes all the work the syrup is doing. In the end, good 'ol Canadian Club struck a good balance.
The resulting cocktail had all the big, boozy charm of the Boulevardier with a more modern, nuanced flavour and a finish that is (like saying goodbye to your favourite radio show) bittersweet.
The Urban Modernist Cocktail (Serves 1)
Ingredients
1 ½ oz. Rye Whiskey
½ oz. Campari
¼ oz. Red Vermouth
¼ oz. Orange Syrup
The Juice of ½ an orange (approx. 1 oz)
Method
To make the orange syrup – Bring 3/4 cup of water and 3/4 cup of demerara sugar to a simmer in a small saucepan while constantly stirring. Toss in a handful (6g) of Orange Peel, roughly chopped, pith and all and remove from heat. Let cool to room temp and pour the mixture into a non-reactive container, pop it into the fridge to keep for 2 weeks. Makes enough for a whole night of carousing with friends.
Mix the Cocktail – Pour all ingredients into a mixing glass filled with ice and give it a good long stir (like 30 rotations long!) and double-strain into a chilled coupe or old fashioned glass with ice. Garnish with an orange peel or a whole star anise… Just don't accidently swallow it! *laughs*
Music To Sip Cocktails To:
Afternoons In Stereo – Retrospective
(Listen to it Here @ afternoonsinstereo.com and be sure to give the final episode of UM a spin)