It's 6 'o clock on a smoldering afternoon in Victoria and my wife and I are hiking down the main drag, one blistering cobblestone at a time. We're desperate to get back to our hotel room out of this ocean of people and car exhaust. Sure, we could hang out downtown but our dinner reservation isn't for another couple hours and I'll be damned if I'm going to sweat in this hipster inferno any longer, especially with all these MEC bags full of biking gear and cookbooks weighing me down.
I'm ready to start shoving tourists and crusty punks out of my way when I see the Rialto Hotel off in the distance; its grand double doors wide open, inviting me to drop everything and sit at the long marble bar where an angel with wings of cascading vintage glassware is pouring two fingers of Victoria Gin into an icy shaker with a wry grin.
I grab my wife's hands and drag her inside, bags discarded along the way. We collapse into the tall chairs lining the bar and breathe in the stillness, seemingly miles away from the heat and crowd. The marble is cool to the touch and I can smell mint and lavender bitters on the air… We've arrived at Veneto, Victoria's premier craft cocktail oasis… Thank the Gods!
Veneto is our go-to spot in Vic. for pre-dinner drinks, located in the lobby of the historic Rialto smack in the middle of downtown. It's easy to see from the street thanks to the aforementioned massive marble bar top, absinthe fountain and extensive collection of thrift-store glassware spread hither and yon amongst the back bar.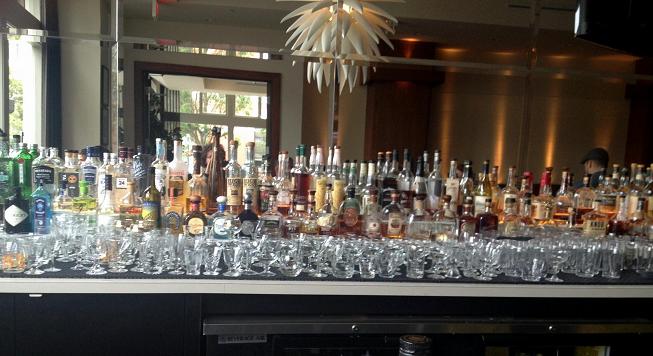 The bartenders at Veneto (esp. Calladonia!) are rock stars: knowledgeable, hip, chatty and passionate about their craft. It's mad fun to watch them work (especially when the dinner rush starts up and up to three of them will be slinging at once) so unless you're with a big group, try and grab a spot at the bar like we did.
Now that we're ensconced at the bar with our cute little glasses of cucumber water it's time to take the edge off in style; yes, it's time to Spin the Wheel! We let the bartender know what our poison(s) of choice are and what type of flavours we enjoy and they go to work concocting an off-menu cocktail just for us! It's super fun, cheap and a great way to try something new while still staying in your cocktail comfort-zone.
On the other hand, the drink menu is for more adventurous drinkers with a collection of recipes dreamed up by the bar team featuring lots of craft spirits, homemade syrups and bitters. The "Jack Carraway" which features Jack Daniels, Amaro and a carraway tincture and the "Coureur Des Bois" with Rum, Gin, espresso and whatever the hell "pimento dram" is both sound exciting and terrifying!
Don't want a cocktail? Get out! *laughs* Nah, there's also a great selection of beers on tap including both Fat Tug and Dark Matter.
So now that we're cooled down and a blissfully buzzed, Crystal and I get a bit peckish (I love that word!) and decide to hit up Veneto's equally impressive back of house for some charcuterie and tapas plates. Hey, like I said… dinner 'aint for another couple hours!
Chef Tod Bosence (who just got a nifty write-up in Vic's EAT Magazine) and his kitchen team have built a food program to rival Veneto's mighty cocktail program…Yeah, lot of programs…. Anyway, the menu is broken into four parts: The Tapas menu featuring ity-bity bites to share. The slightly-confusing "Sharing Tapas" menu has slightly bigger bites. The Charcuterie Boards are piled high with all the good stuff in life and finally there is a newly-expanded Fresh Sheet that features full-on entrees if you're into lounging all night after drinks…. Oh,  and there's a "secret" burger, but don't tell anyone.
We've had the opportunity to try many of the small plates and boards over the years and they're all delicious, perfectly portioned examples of rustic appetizers done well. The meat 'n cheese boards are perfect for couples who want just a bit to eat while they imbibe 'n chat, and yes all are available at the bar.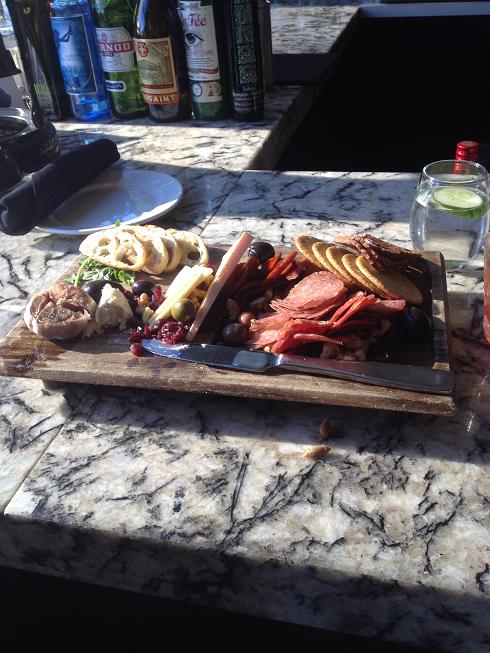 Which is where Crystal and I are now… Still… We've each had a couple spins at the 'ol wheel and a nibble or two from the menu and I'm starting to warm up to the idea of just staying put for the night. I mean the food and drinks are top notch and I don't want to go back out into the heat and someone mentioned there's a downtempo DJ coming in to spin later on…
I'd better cancel those reservations.