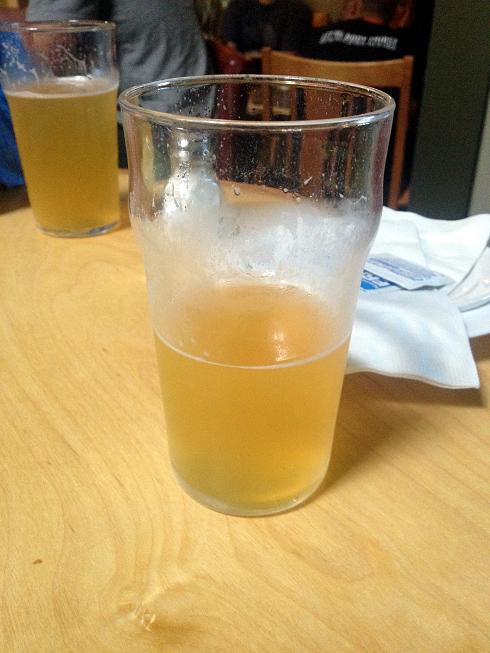 Another summer has landed here on the West coast and it's shaping up to be extremely busy for the EDB team. There's work, seafood festivals, pop-ups, bike trips to various places on the island and mainland plus visits with friends, family and all manner of industry establishments all packed into the next two and a half months. Whew!
To offset all this madness it's important to always set aside a few moments of calm here and there to unwind the mind and body… And crack open a craft beer! *Ksssssht*Yes! Once again it's time to have a look back at my favourite BC brews of the spring and forward to the bombers I'll be savouring all summer long.
It's my 2106 Summer Beer List! Without much of a critic's eye (or palate) I've listed my favs in absolutely no particular order. All are from BC, all are bombers and all are really freakin tasty. The only difference from my last few Summer Beer Lists is that this year is stacked with many beers of the same type.
It's not that I don't try LOTS of different beers…  It's that every year it seems a new style of beer is "re-discovered" by the über-nerdy craft brewmasters (respect!) and SHAZAM! There's a year-long glut of one style dominating the craft scene as each brewery tries its hand at it.
A year ago saisons and smoked beers were the big thing and the year before radlers and "session" IPAs were the rage. This year it's all about the palate-smashing tartness of lambics, gose, nasty mashes and fruit gone bad… In short, 2016 is the year of the Sour and if you're unfamiliar with sours and "wild" beers the latest episode of the stellar Gastropod podcast will set you straight.
So amongst this summer's roster of session superstars expect quite a few puckery pints (yeah, I said that… I'm sorry) that I urge you to pick up if you see 'em at your local liquor store.
2016 BC Summer Beer List (Sour Edition!)
Bodhisattva Dry-Hopped Sour Ale (Parallel 49 Brewing, Vancouver, BC)
First out of the gate is an explosively citrus and hops-forward ale representing team sour. This groovy brew has massive pineapple and orange peel aromas, a big wheatey body, unmistakable sourness and a blast of hops that comes from fermenting the beer a second time in champagne barrels. Even though it's tart as hell the sweet wheatiness (sweetiness?) keeps it pretty balanced, making it a good sour for beginners.
Best Enjoyed: Atop a rock, staring out into the vastness of the ocean… Thinking 'bout stuff.
Dirty Harry's California Common (Wolf Brewing, Nanaimo, BC)
Steam beers have been made in North America since time immemorial, but recently the "California Common"-style of steamed lager has come into fashion in a big, bad way. Wolf's version is light and effervescent with a malty-nutty body and a last hit of chicory-like bitter.
Best Enjoyed: Alongside homemade fajitas made over open flames.
Earl Grey IPA (Salt Spring Island Ales, BC)
Halfway between a beer and a London fog, this malty IPA from Salt Springs is packed with lemon and bergamot aromas, rich vanilla flavour and a nice hoppy kick to remind you this is still a high-proof brew. It's another beautifully-crafted beer from one of my top three breweries.
Best Enjoyed: While spinning through Joy Division's discography and falling in love all over again.
Hikari Dry-Hopped Sour Weisse (Fuggles & Warlock Brewing, Richmond, BC)
This kettle sour makes no apologies from the moment you crack it open! The huge pineapple and lemon zest aromas hit you first followed by subtler funky, yeasty notes. The bubbly banana bread body (say that three times fast!) holds your tongue in a warm, safe place for mere seconds before the dropping into the sour danger zone. The hard switch between sweet 'n sour completely distracts you from the whopping 7.2% ABV! Damn!
Best Enjoyed: Alongside a soul-satisfying bowl of katsu curry after a whole afternoon of pulling weeds and cleaning up the garden.
Honey Mussel Saison (Spinnakers Brewery, Victoria, BC)
People who (like me) don't read labels or have shellfish allergies beware! I swear I thought the name was an in-joke, not once did it occur to me that this beer was actually brewed with a bucketful of BC honey mussels. Despite this bizarre addition, the beer is a fine saison, if a little sweet.
Best Enjoyed: While frantically prepping as many tuiles as possible for the BCSA Shellfish Festival.
Lemon Gin Saison (Bridge Brewing Co, North Vancouver, BC)
Bridge Brewing has combined my two greatest alcoholic passions into a single, easy-drinking summer saison. It's light and bubbly with lemon on the nose, juniper in its belly and a slightly peppery finish that really does remind the palate of Dutch courage; A perfect summer sipper!
Best Enjoyed: After a perfect afternoon thrashing around the legendary North Shore mountain bike trails.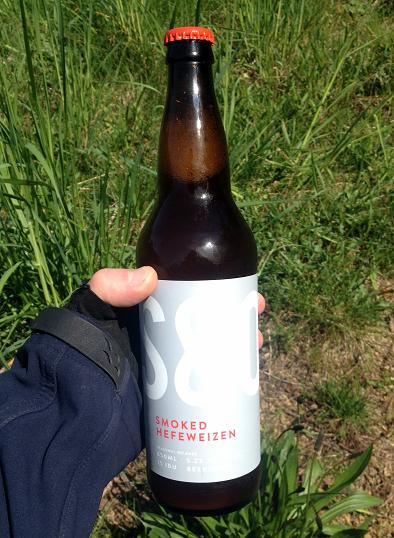 S&O Smoked Hefeweizen (Steel and Oak Brewing, New Westminster, BC)
Roasting barley over an open flame can lead to intense smokiness which, if properly controlled ads some serious depth of flavour to a finished beer. The trick (in beer and all things in life) is hitting the right balance, and I'll be damned if Steel and Oak brewing's heffe doesn't nail it perfectly. This spicy, wheaty beer has the lightest, smoothest body and just the perfect whiff of smoke to round out its not-to-bitter finish.
Best Enjoyed: Around a beach fire, toasting marshmallows and watching the kingfishers dive for baby pinks.
"Sax in the Dark" Grape Must Sour (Phillips Brewing, Victoria, BC)
Good 'ol Phillips has joined the sour parade with this oddball dark ale infused with the "must" or bacteria that adheres to the skin of wine grapes. The result has all the caramel and cocoa tones present in your favourite dark beers with a pungent wine-line aroma, mad bubbles and a dry, almost-tannic sourness that disappears as fast as it arrives.
Best Enjoyed: While sorting through the mountain of salmonberries you picked in your own back yard.
"Drawn To Light" Abby Ale (Driftwood Brewing, Victoria, BC)
Driftwood brewery is on fire! Not only have they produced some of the most awe-inspiring beers of the last half decade, but their labels are heavy metal album cover-style masterpieces! This golden abby-style ale is their best yet with intense floral, pineapple and weirdly 'shroom-like aromas and a big juicy fruit body. The finish is so clean it evaporates! No lingering bitterness, no hoppy breath…. Nothing! This beer is in my top ten of all time!
Best Enjoyed: Watching AMC's brilliant Preacher series, which is as amazing as the Vertigo comic it's based on!
Scotch Ale (Wolf Brewing, Nanaimo, BC)
This beautiful amber ale is part of Wolf's main line of brews with labels illustrated by local BC artists. It's got a big malty body with raisin and coffee notes and a nice bitter finish that keeps it all from becoming syrupy.
Best Enjoyed: At the Sunday Farmer's Market. 'Cause apparently they serve beer now! Whoot!
Save