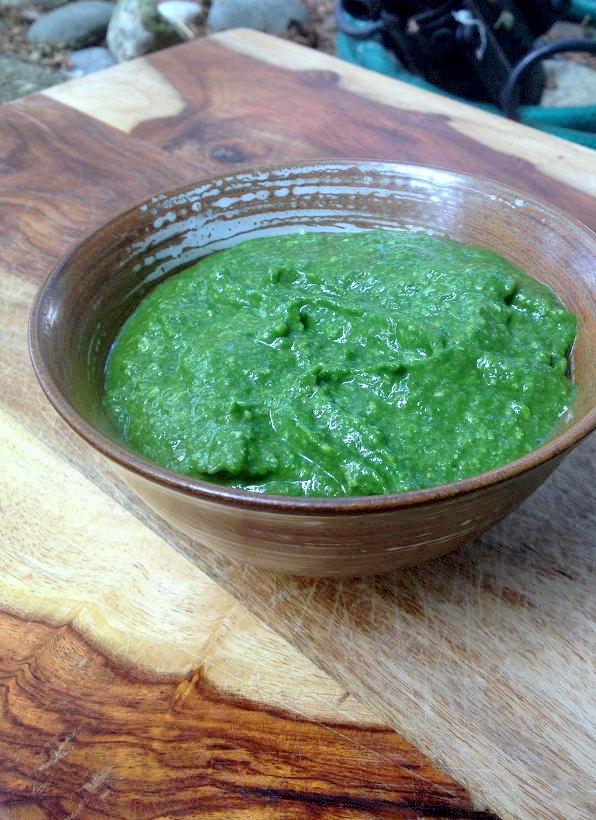 Mother Nature has finally pulled herself together and ended the treachley tyranny of wind and rain that we West coasters call winter. Now that the sun's out the world becomes a psychedelic dreamscape of bright pink cherry blossoms, purple crocuses, and deep green salmonberry shoots. I roll back the rock and stumble blindly, yet eagerly out of my cave and into the backyard with a pair of gloves and a plastic bag to collect the first edible greenery of the year: The mighty Stinging Nettle!
Yep, I really have a thing for these weeds! This is the third (or is it fourth?) recipe that I've posted featuring nettles as the main ingredient and it's definitely the simplest of the bunch.
A quick blanching removes all the sting from these tasty leaves and leaves them in mushy state that's already halfway to being a pesto. Add some nuts, Parmesan and oil to boost the nettles already meaty/savoury flavour and blast 'em up with a blender. That's it!
I served this greenest of green paste with a prosciutto-wrapped rabbit loin for Easter (what else would you serve?) but it pairs easily with chicken, fish, game or tossed with pasta or polenta.
Nettle Pesto  (Makes 1 ½ cups)
Ingredients
3 cups (210g) Fresh Nettles (soaked in water to remove all the grits 'n bugs and drained)
3 Garlic Cloves (16g)
¼ cup Toasted Almonds (15g)
¼ cup Parmesan Cheese (15g)
½ Tsp. Balsamic Vinegar (3ml)
½ cup Vegetable Oil (60ml)
Salt 'n Pepper
Method (Time to once again get out the immersion blender!)
Blanch the nettles in boiling salted water for 5 minutes to remove their sting. Drain and run under cold water briefly to return to room temperature. Squeeze the remaining pulp of as much water as you can and place in a tall container suitable for blenderizing… Shut up, it's a word!
Add the remaining ingredients except for the oil, salt 'n pepper and give the mixture an initial pulse with an immersion blender. Slowly add more of the oil while continuously blending until everything has been incorporated into a smooth paste. Taste, and season with any salt 'n pepper as necessary. This pesto can be sealed and refrigerated for up to two weeks.
Music To Make Pesto To:
Marek Hemmann – Infinity EP