Won't you come visit
To view my cherry blossoms
In my sake jar?

                     –  Gerald Cawdell, Victoria, British Columbia (2014 Vancouver Cherry Blossom Festival, Honourable Mention)
Back in November, after losing my favourite internet radio show I mixed myself up a couple cocktails to drown my sorrows and shared the recipe on EDB. It was my own silly little way to say goodbye to something that I really loved and I figured (like most blog posts) a handful of my loved ones would read and discard it without a second thought. 
But my friends, we live in an age of wonders! A day later, via Facebook I received a pic from Greg (aka Afternoons In Stereo – The host of said radio show) making the cocktail! He thanked me for the recipe, suggested swapping the Rye for a softer Bourbon (which is a great idea by the by) and then chatted with me about cocktails and music for the next hour!
I couldn't believe what was happening. One of my musical heroes, a dude I'd listened to for years was reaching out to me! I kept my phone next to the line printer so I wouldn't miss a single beat… Oh, yeah I forgot to mention this all happened during the dinner rush! *laughs* Best night ever!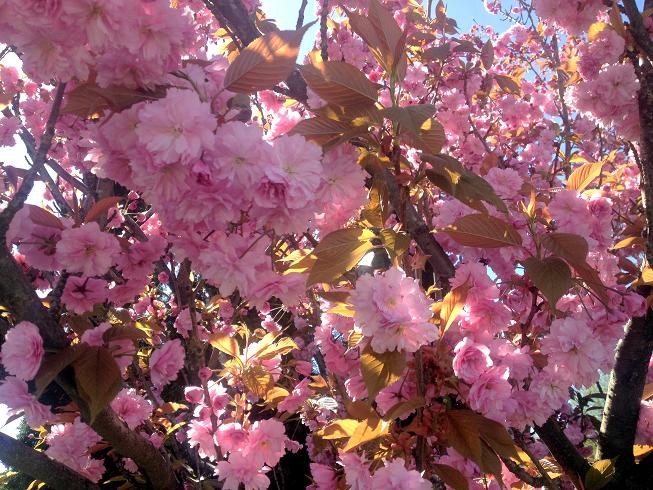 So in honour of the mighty Afternoons In Stereo I've mixed up another cocktail, this time named after the track "West End Satori" off my favourite AiS album The Silence Between Phrases. It utilizes both the cherry blossom syrup and cherry blossom-infused plum wine that I made last week in honour of my own little moment of satori in West End Vancouver.
The base spirit is vodka (and definitely go for a less-assertive, cocktail vodka) with Japanese plum wine singing back-up. A squeeze of lime keeps everything fresh and an egg white (which I haven't stopped using in cocktails since The Lady Sage) imparts a frothy texture. The cherry blossom fragrance is unique and pervasive, making you think your downing an amaretto-heavy drink without a drop in the recipe.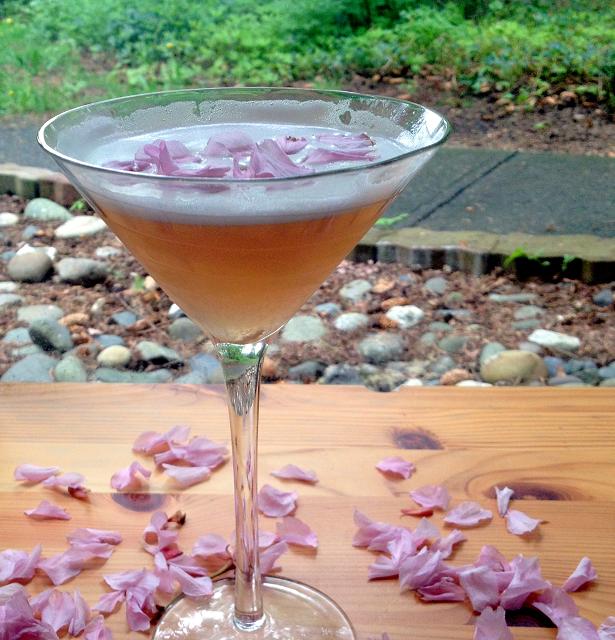 If you aren't into making your own cherry blossom wine and syrup there's a couple 'o bottled options available online or at your local Japanese grocery store. To give this cocktail a ghetto remix just substitute un-flavoured plum wine and a couple hits of the bottled cherry blossom syrup.
West End Satori Cocktail (Fills 1 Martini Glasses)
Ingredients
1 ½  oz. Vodka
1 oz. Cherry Blossom-Infused Plum Wine
Juice of ¼ a Large Lime
½ oz. Cherry Blossom Syrup
1 Egg White
Method
Muddle the vodka, plum wine and lime in the bottom of your cocktail shaker.
Pour in the cherry blossom syrup and the egg white, lock up your shaker and dry shake (that's without ice) to get it nice 'n frothy. Toss in a couple ice cubes and shake again, really hard 'n fast to get it chilled.
Strain into a chilled cocktail glass and garnish with cherry blossom petals.
Music To Mix Cocktails To:
Afternoons In Stereo – The Silence Between Phrases